Keysight 33509B Function/Waveform Generator
Keysight 33509B Function/Waveform Generator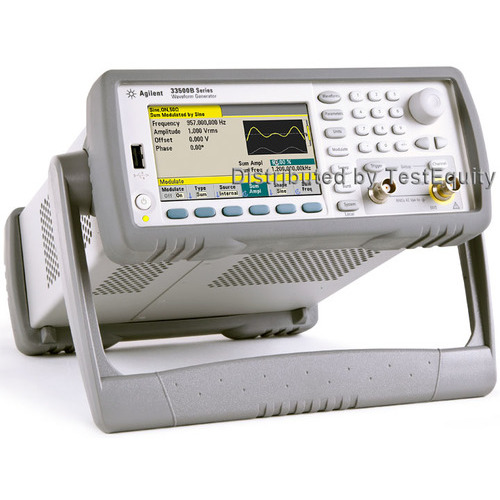 Condition:

New

Manufacturer:

Keysight

Manufacturer Part #:

33509B

Meta Description:

Keysight's 33509B waveform generator's Trueform signal generation technology offer more than traditional DDS generators.

TestEquity Part #:

20037.1
Product Features

20 MHz bandwidth
1-Channel
Jitter: <40 ps
THD: <0.04%
Amplitude ranges: 1 mVpp up to 10 Vpp
250 MSa/s sampling rate
16-bit amplitude resolution
1 MSa/channel memory, 16 MSa optional
Video: Introducing Trueform technology
Video: Quick and Accurate Electronics Thermal Characterization
Video: Amazing Water trick with a Function Generator
Trueform Technology: Revolutionary Signal Generation with Unmatched Capabilities and Fidelity
Keysight's 33509B Waveform Generator with exclusive Trueform Technology blends the best of DDS and point-by-point architectures, giving you the benefits of both without the limitations of either. The 33509B features 20 MHz bandwidth, 1-channel, and a full set of standard features.
Additional Benefits
Sine waves with 5x lower harmonic distortion
Trueform technology providing highest resolution and lowest distortion
Point-by-point arbitrary waveforms with sequencing
Eight new value-priced models, with ability to upgrade later
Waveform summing and combining capability
Higher bandwidth pulses with 10x less jitter
intuitive front panel, complimentary software and localized help and mobile device-accessible manuals
The 33509B features a rich set of built-in, standard features, including LAN, USB and GPIB interfaces, 1 MSample of memory, an external timebase input, and basic waveform generation software. You get everything you need to generate clean, precise, low-noise signals for testing your designs.
Includes: Built-in waveform editor on the front panel — no PC needed. BenchVue Software for easy waveform creation and editing, and Instant access to full documentation from a mobile device or on CD-ROMs, plus calibration test report.

Keysight BenchVue Software: Click. Capture. Done.
Accelerates your testing by providing intuitive, multiple instrument measurement visibility and data capture with no programming. You'll derive answers faster by easily viewing, capturing and exporting measurement data and screen shots. The integrated library feature includes access to manuals, FAQs, videos, and more — enabling you to expand your measurement knowledge and reduce test setup time.
Visit the Keysight 33500B Series Function/Arbitrary Waveform Generators page for additional information. >>
A BenchVue software license (BV0002B) is now included with your instrument. BenchVue makes it simple to connect, control instruments, and automate test sequences.