Keysight 33512B Function/Arbitrary Waveform Generator
Keysight 33512B Function/Arbitrary Waveform Generator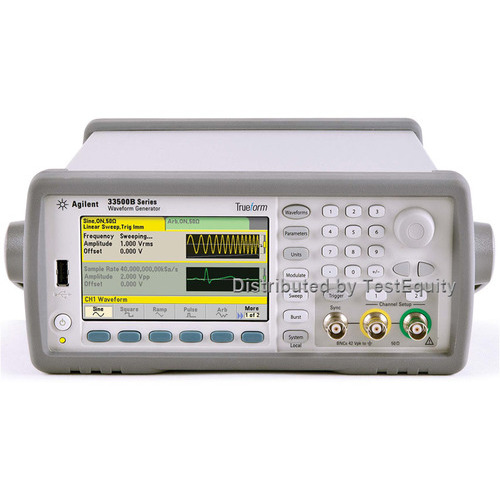 Condition:

New

Manufacturer:

Keysight

Manufacturer Part #:

33512B

Meta Description:

Keysight's 33512B waveform generator's Trueform signal generation technology offer more than traditional DDS generators.

Quote Required:

No

TestEquity Part #:

20040.1
Product Features

Up to 30 MHz sine and pulse
Jitter: <40 ps
THD: <0.04%
Amplitude ranges: 1 mVpp up to 10 Vpp
250 MSa/s sampling rate
16-bit amplitude resolution
1 MSa/channel memory, 16 MSa optional
LXI-C, USB, GPIB interface
Video: Introducing Trueform technology
Video: Quick and Accurate Electronics Thermal Characterization
Video: Amazing Water trick with a Function Generator
Trueform Technology: Revolutionary Signal Generation with Unmatched Capabilities and Fidelity
Keysight's 33500B Series of Waveform Generators with exclusive Trueform Technology blends the best of DDS and point-by-point architectures, giving you the benefits of both without the limitations of either. Eight new upgradeable models are available at 20 and 30 MHz with 1- and 2-channels with a full set of standard features, and optional baseband I-Q signal player.
Additional Benefits
Sine waves with 5x lower harmonic distortion
Trueform technology providing highest resolution and lowest distortion
Point-by-point arbitrary waveforms with sequencing
Eight new value-priced models, with ability to upgrade later
Waveform summing and combining capability
Higher bandwidth pulses with 10x less jitter
intuitive front panel, complimentary software and localized help and mobile device-accessible manuals
33500B Series Waveform Generators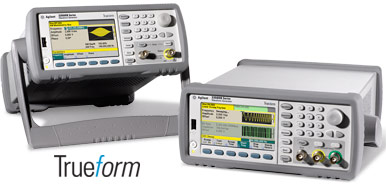 Choose the model with the capability you need now, knowing you can upgrade later.
All models come with a rich set of built-in, standard features, including LAN, USB and GPIB interfaces, 1 MSample of memory, an external timebase input, and basic waveform generation software. You get everything you need to generate clean, precise, low-noise signals for testing your designs.
Learn more about the advantages of Trueform waveform generation.
Download Trueform Waveform Generation Technology - Technical Overview (PDF, 563K).
A BenchVue software license (BV0002B) is now included with your instrument. BenchVue makes it simple to connect, control instruments, and automate test sequences.