Keysight 33621A Trueform Waveform Generator
Keysight 33621A Trueform Waveform Generator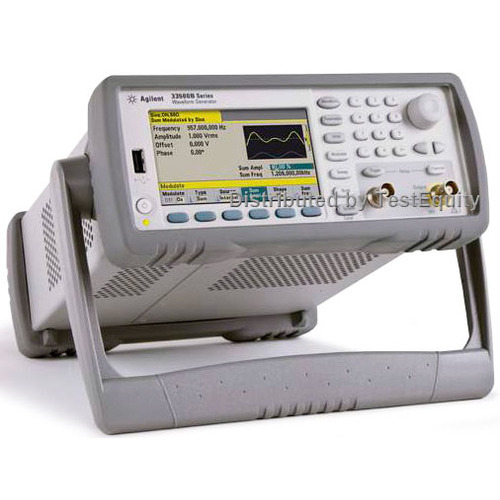 Condition:

New

Manufacturer:

Keysight

Meta Keywords:

Trueform, Function Generator, Arbitrary Waveform Generator


80 & 120 MHz
1- & 2-channel models
Up to 100 MHz pulse
1 GSa/s sampling rate
14-bit amplitude resolution
Trueform arbitrary waveforms, sequencing
Up to 64 MSa per channel arb memory
Low jitter: 1 ps, low phase noise: -125 dBc/Hz
Low harmonic and spurious distortion
PRBS serial patterns
Optional high-stability time-base
Three-year warranty
Video: Synchronizing Multiple Waveform Generators
Video: Quick and Accurate Electronics Thermal Characterization
Video: Amazing Water trick with a Function Generator
Generate Trueform arbitrary waveforms with less jitter and more fidelity
The new 33600A Series of waveform generators with exclusive Trueform Technology offer more capability, fidelity and flexibility than previous generation DDS waveform generators. The 33600A Series provides 4 upgradable models in 80 and 120 MHz, 1- or 2-channels, Trueform arbs with sequencing and 64 MSa memory, 1 ps jitter (1/100th the jitter of DDS generators) and 5x lower harmonic distortion than DDS generators. The 33600A Series offers a full set of standard features and an optional baseband I-Q signal player that are designed to accelerate your development process from start to finish.
Unmatched capabilities for generating a full range of signals
The 33600A Series waveform generators offer the common signals and features you expect, such as modulation, sweep and burst. However, it also offers features that give you the capabilities and flexibility you need to get your job done quickly — no matter how complex, like LAN, USB and optional GPIB interfaces. The 33600A Series waveform generators offer a variety of capabilities designed to help you accelerate your testing and get your project wrapped up faster:
Waveform summing and combining capability
Variable-bandwidth noise
Waveform sequencing
Pseudo-random binary sequence (PRBS) pattern generation
Smart phone and tablet access
Flexibility in creating and playing waveforms
Built-in Web browser
Standard deep memory
Unique features of the 33600A Series waveform generators
| | |
| --- | --- |
| 100 MHz PULSE | High-bandwidth pulse, 100 MHz, DDS pulse limited to 50 MHz Set leading and trailing edge times independently |
| PRBS PATTERNS | Provides standard PRBS patterns, PN3 through PN32 Select PN type, set bit rate, set edge times |
| 2-CHANNEL COUPLING | Dual-channel coupling, frequency and amplitude, and tracking Set start phase for each channel, phase shift between channels |
| COMBINING SIGNALS | Sum two signals together, frequency and amplitude independent 2-tone (4-tone on 2-ch), square-sine, noise on pulse, and others |
| TRUEFORM ARBS | Create up to 4 million samples standard, 64 million optional Connect arb segments together, with up to 512 segments |
| LOW VOLTAGE SETTINGS | Lower voltage range at 1 mVpp, DDS is only 10 mVpp Set high and low voltage limits to prevent overload on DUT |
| BAND-LIMITED NOISE | Adjust bandwidth to concentrate the energy of the noise Noise source goes to full 120 MHz bandwidth |
Overcomes DDS limitations
Keysight's Trueform technology offers an alternative that blends the best of DDS and point-per-clock architectures, giving you the benefits of both without the limitations of either. Trueform technology uses an exclusive digital sampling technique that delivers unmatched performance at the same low price you are accustomed to with DDS.
4 Models to Choose From
Choose the model with the capability you need now, knowing you can upgrade bandwidth and/or memory later. All models come with a rich set of built-in, standard features, including LAN, USB and optional GPIB interfaces, 4 MSample of memory, an external timebase input, and basic waveform generation software. You get everything you need to generate clean, precise, low-noise signals for testing your designs.
33600A Series waveform generators with Trueform technology
Please refer to Data Sheet for complete specifications.

Keysight BenchVue Software: Click. Capture. Done.
Accelerates your testing by providing intuitive, multiple instrument measurement visibility and data capture with no programming. You'll derive answers faster by easily viewing, capturing and exporting measurement data and screen shots. The integrated library feature includes access to manuals, FAQs, videos, and more — enabling you to expand your measurement knowledge and reduce test setup time.
A BenchVue software license (BV0002B) is now included with your instrument. BenchVue makes it simple to connect, control instruments, and automate test sequences.