Keysight 34410A Digital Multimeter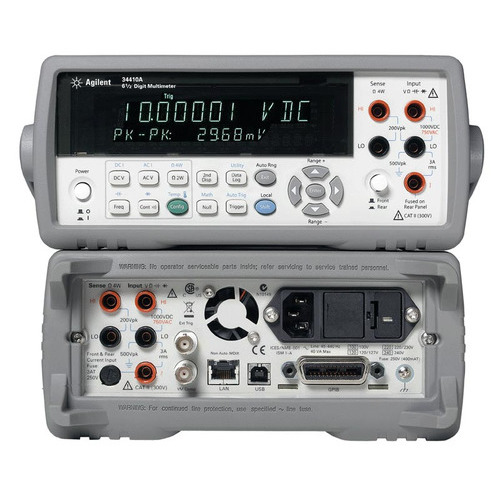 Brand:

Keysight

Condition:

Rental

Discontinued:

Yes
10,000 readings/sec @ 5-1/2 digits direct to PC (1,000 readings/sec @ 6-1/2 digits)
30 PPM 1 year Basic DC accuracy
LAN (LXI-C), USB & GPIB standard
DCV, ACV, DCI, ACI, 2- and 4-wire Resistance, Frequency, Period, Continuity, and Diode Test
Capacitance & Temperature measurements
Data logger with 50 K reading
Non-volatile memory
The Best Just Got Better
The Keysight 34410A and 34411A 6-1/2 Digit DMMs represent the latest generation of multimeters from Keysight Technologies. Building on the phenomenal success of the industry-standard Keysight 34401A, these new meters offer improved accuracy, expanded measurement capability, dramatically improved measurement speed and throughput, and modern computer interfaces including LAN and USB. The dual display offers both dual measurement capabilities and ease of use when setting up and configuring the DMM. Improvements have been made in every facet of the 34401A to make the best even better, whether you use it on the bench or in a system.
Dramatic Speed Improvements
Whether it's raw reading speed or fast system throughput, the 34410A sets a new benchmark in performance. Using a new A/D technology, the 34410A achieves an impressive 10,000 readings a second at 5-1/2 digits, and can stream readings to your computer at this same speed! Triggering is fast and precise, with both trigger latency and trigger jitter less than 1 µs, while bus query response is less than 500 µs. ACV measurements are faster as well thanks to a digital measurement technique that additionally improves accuracy at high and low frequencies. For even greater reading speeds, select the 34411A, which achieves 50,000 readings a second at 4-1/2 digits.
Enhanced Measurement Performance
The 34410A and 34411A offer Temperature and Capacitance capabilities, in addition to those measurements you have come to expect, such as DCV, ACV, DCI, ACI, 2-wire and 4-wire Resistance, Frequency, Period, Continuity and Diode Test. You also get Offset Compensated Ohms, allowing you to accurately measure resistance in the presence of voltages. Measurement ranges have been expanded as well; for example, DC and AC Current Ranges now go down to 100 µA, resulting in 100 pA resolution. Real-time math and statistics are included, and a peak-detect capability allows you to capture peaks as short as 20 µs.
Even Greater Performance with the 34411A
The 34411A has all the features of the 34410A, plus additional performance that makes it even more powerful. With the ability to make 50,000 readings per second at 4-1/2 digits, Analog Level Triggering, programmable Pre- and Post- Trigger and 1 million readings of volatile memory in addition to 50,000 reading of non-volatile memory, you now have the ability to capture low-frequency waveforms, characterize device performance and transfer results for analysis on your computer.
Data Logger Function
A front panel data logger function allows you to set the meter up to make unattended, paced measurements over a fixed time or number of events, then pull up the results later for review or transfer to a computer for analysis. Set the meter up to take measurements every 10 seconds for an hour, go have lunch, and check the results upon your return. The contextual front panel sequences make setup and read back a breeze.
Improved Ease of Use
From the inclusion of a second display to configuring setups for each of the measurement functions, these new DMMs offer significant improvements in usability. Simple things are simple; more complicated setups are easier than ever. There is even a new probe set designed to more easily probe today's fine-pitch components. Finally, there is a built-in Graphical Web Interface that allows you to interactively control the DMM without the hassle of programming at all!
Modern I/O for Improved Connectivity
When connecting to a computer, select LAN, USB or GPIB interfaces; all three are standard on the 34410A and 34411A. Concerned about the viability of your existing software programs? These new DMMs respond to Standard Commands for Programmable Instrumentation (SCPI), and there is even a 34401A Emulation Mode to ensure the easiest upgrade possible. Keysight's I/O Library Suite ships with the 34410A and 34411A to help you quickly establish an error-free connection between your PC and instrument. It provides robust instrument control and works with the software development environment you choose.
LXI-Class C
LAN Extensions for Instruments (LXI) provides the next generation I/O for system applications requiring the highest throughput. Transfer rates of well over 100,000 readings/sec are attainable ensuring even the most data intensive measurements are fast, without the overhead cost of an instrument cardcage. Both the 34410A and the 34411A have been designed for LXI-Class C compliance.
Includes: Test Lead Kit with probes and SMT attachments, test report, power cord, USB interface cable, Product Reference CD-ROM with soft documentation and software (BenchVue, LabVIEW & IVI-COM drivers).