Keysight 34420A nanoVolt / microOhm Meter
Keysight 34420A nanoVolt / microOhm Meter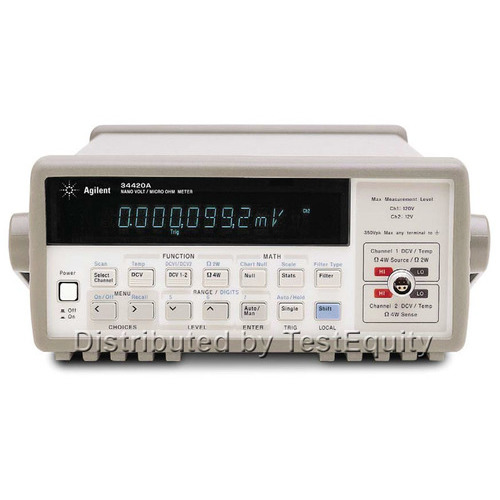 Product Features

7-1/2 digits resolution
100 pV / 100 nOhm sensitivity
1 mV to 100 V ranges
1.3 nVrms / 8 nVpp noise performance
Two-channel programmable voltage input with difference and ration functions
Direct SPRT, RTD, Thermistor, and Thermocouple measurements
GPIB, RS-232, SCPI, and Keithley 181 languages
Three-year warranty
The 34420A nanoVolt/microOhm Meter is a high-sensitivity multimeter optimized for performing low-level measurements. It combines low-noise voltage measurements with resistance and temperature functions, setting a new standard in low-level flexibility and performance.

Keysight BenchVue Software for the PC
This software option from Keysight offers engineers and technicians involved in design and validation an easy and intuitive way to accelerate testing with no programming necessary. Multiple instrument measurement visibility and data capture improves the way users interact with their instruments and the entire bench. BenchVue provides easy viewing, capturing and exporting of data and screen shots. Visit the BenchVue Product Page for more information including instrument compatibility.
Includes low-thermal input cable (34102A), low-thermal shorting plug (34103A), Kelvin clip set (11062A), IntuiLink connectivity software, operating manual, service manual, quick reference guide, test report with calibration sticker, 2.3 ml bottle of contact cleaner, and power cord.
A BenchVue software license (BV0001B) is now included with your instrument. BenchVue makes it simple to connect, control instruments, and automate test sequences.