Keysight 34470A Digital Multimeter
Keysight 34470A Digital Multimeter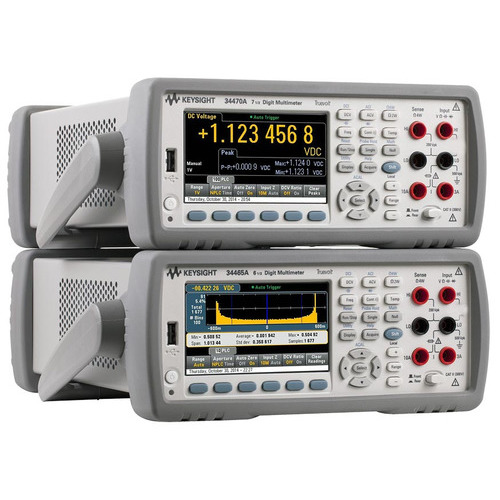 Product Features

Resolution: 34465A: 6-1/2 digit, 34470A: 7-1/2 digit
Measure up to 1000 VDC, 750 VAC
1-year DCV basic accuracy 0.0035% + 0.0005%
DCV, ACV, DCI, ACI, 2- and 4-Wire Resistance, Frequency, Period, Continuity, Diode, Current, Temperature
1,000 readings/s, 10,000 reading memory, plus front panel USB
Color graphical display with Number, Histogram, Bar Chart, Trend Chart, Math and Statistics
USB and LAN/LXI included. Optional GPIB.
UL, CSA, CE
Includes High-Speed Digitizing and Advanced Triggering (Opt. DIG)
Three-year warranty
Measure low-power devices
The ability to measure very low current, 1 μA range with pico second resolution, allows you to make measurements on very low power devices.
Maintain calibrated measurements
Auto calibration allows you to compensate for temperature drift so you can maintain measurement accuracy throughout your workday.
Get more insight quickly
Truevolt DMM's graphical capabilities such as trend and histogram charts offer more insights quickly. Both models also provide a data logging mode for easier trend analysis and a digitizing mode for capturing transients.
34465A DMM
34470A DMM
Resolution
6½ digit
7½ digit
Input terminals
Front and rear
Front and rear
Basic DCV accuracy
30 ppm
16 ppm
Max reading rate
5,000 rdgs std
50,000 rdgs/s opt
5,000 rdgs std
50,000 rdgs/s opt
Measurements
DCV, ACV
100 mV - 1000 VDC, 750 VAC
DCI
1 μA to 10 A
1 μA to 10 A
ACI
100 μA to 10 A
100 μA to 10 A
2- and 4-wire resistance
100 Ω - 1,000 MΩ
Temperature
RTD/PT100, thermistor, thermocouples
Graphical display
Trend Chart
34401A compatibility
100% SCPI language
Product can ID as native 34401A DMM
Memory
Front panel USB
50,000 readings
50,000 readings
I/O connectivity
Included: USB, LAN/LXI
Optional: GPIB
Options
ACC (3446ACCU) - accessory kit
optional
included standard
GPB (3446GPBU) - GPIB module
optional
optional
SEC (3446SECU) - NISPOM security
optional
optional
Please refer to Data Sheet for complete specifications.
Key applications:
R&D bench tasks: component measurement, single unit characterization, bring-up of a new design, troubleshooting
Validation: develop and deploy manufacturing tests, multiple unit qualification/conformance
Manufacturing/automated test: end product functional or performance tests

Keysight BenchVue Software for the PC
This software option from Keysight offers engineers and technicians involved in design and validation an easy and intuitive way to accelerate testing with no programming necessary. Multiple instrument measurement visibility and data capture improves the way users interact with their instruments and the entire bench. BenchVue provides easy viewing, capturing and exporting of data and screen shots. Visit the BenchVue Product Page for more information including instrument compatibility.
Included: 34465A: Power cord and Calibration certificate. Additionally included with the 34470A: 34138A test lead set with probes, fine-tip probes, SMT grabbers and mini grabber attachments, Documentation CD, IO Libraries CD, and USB cable.
A BenchVue software license (BV0001B) is now included with your instrument. BenchVue makes it simple to connect, control instruments, and automate test sequences.
| Manufacturer | Model | Description |
| --- | --- | --- |
| Keysight | 3446SECU (Opt. SEC) | NISPOM File Security For Truevolt Series DMMs. Customer installable. |
| Keysight | 3446GPBU (Opt. GPB) | GPIB Interface Module For Truevolt Series DMMs and Trueform Series Waveform Generators. Customer installable. |
| Keysight | 3446DIGU (Opt. DIG) | High-Speed Digitizing and Advanced Triggering For 34665A, 34670A. Enable high-speed digitizing and advanced triggering. Customer installable. |
| Keysight | 3446MEMU (Opt. MEM) | 2 Million Readings Memory For 34465A and 34470A. Enable 2 million readings memory. Customer installable. |
| Keysight | 34190A | 2U Rackmount Kit (Opt. 1CM) For single half-rack unit. |
| Keysight | 34194A | Dual Lock Link Kit Replaces 5061-8769 |
| Keysight | 34191A | 2U Dual Rack Mount Flange Kit Replaces 5063-9212 |
| Keysight | 34131A | Transit Case For single half-rack unit |
| Keysight | Y1133A | Low-Thermal External DMM Scanning Kit |
| Keysight | 11059A | Kelvin Probe Set Consists of two gold-plated flat tweezers with special gripping surfaces. The ground guard connector removes ground-related errors. The gold plating helps to reduce the contact resistance. |
| Keysight | 34330A | 30 Amp Current Shunt |
| Keysight | 11060A | Surface Mount Device Probe -42 V to 42 V, Max: 42 V peak, Termination: 2 single banana plugs, 48" Cable: 384 strand copper wire with silicone rubber insulation. |
| Keysight | 11062A | Kelvin Clip Set 11062A Kelvin Clip Set includes two clips only. Max. jaw opening is 7.9 mm (0.31 in.), 10 A, 42 Vdc. |
| Keysight | 34133A | Precision Electronic Test Leads Designed for working with small components and in dense circuit boards. Small, light and feature Keysight's patented browser concept, using a crown point pogo pin. The spring-loaded tip helps absorb small movements, crown point digs into solder. Includes one red and one black test lead. |
| Keysight | 34134A | DC Current Probe |
| Keysight | 34171B | Input Terminal Block 18 gauge, 1000 V |
| Keysight | 34172B | Calibration Short Used w/34401A/34410A/34411A/L4411A DMMs |