Keysight 34826A BenchLink Data Logger Software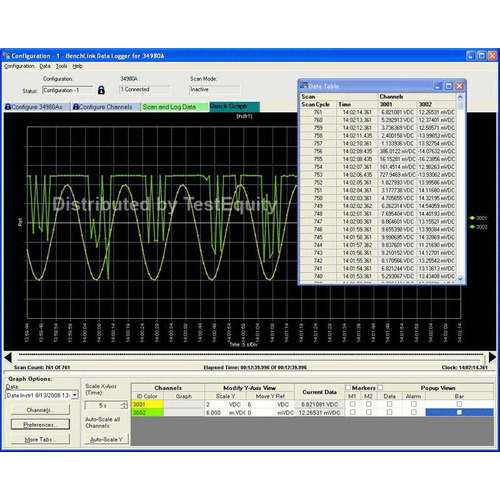 Brand:

Keysight

Condition:

New
NOTE: this is a CD of software that can be downloaded for free from Keysight's website.
Supports high-performance data logging for the 34980A Switch/Measure unit
Quick test setup and execution
Set alarms and execute scans
Collect, monitor and manage data
Present data on a single or multiple graphs
Export data to other applications for presentation and analysis
Free download from HERE
Keysight BenchLink Data Logger software for the 34980A provides a convenient way to collect and analyze your data. The software is a Windows® based application that uses a familiar spreadsheet environment to define measurement data to be collected. The tab-based format makes it easy to set up and initiate scans. Simply identify the measurements you want to acquire, initiate the process, and see the data displayed real-time.
This BenchLink software supports advanced features of the 34980A. You can log data at speeds up to 900 ch/sec with the 34925A FET multiplexer, or take advantage of the high-density capabilities of the 34980A; capturing up to 560 2-wire multiplexer channels from one 34980A mainframe, or 1120 channels from 2 mainframes.
With the BenchLink Data Logger software you get PC-based data logging capability without spending hours programming.
Note: BenchLink Data Logger installation requires Keysight IO Libraries to be installed on your machine.