Keysight 34934A Quad 4x32 Reed Matrix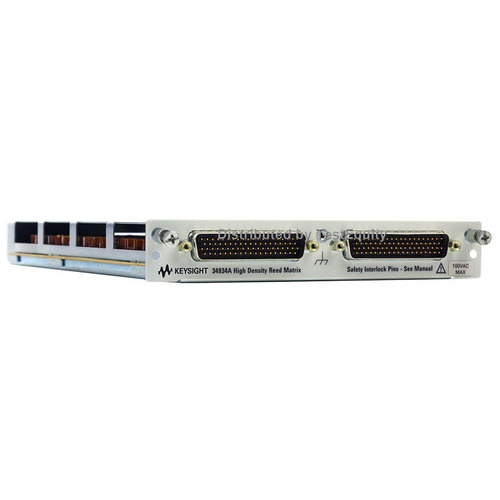 Condition:

Rental

Drill Down Description:

Quad 4x32 Reed Matrix

Model:

34934A

Product Code:

Rental

Quote Required:

Yes

Web Meta Description:

Explore our options for a Keysight 34934A Reed Matrix. With various sizes and selections, you are sure to find the perfect solution at TestEquity.

S3 Part Number:

16986.2
34934A Quad 4x32 Reed Matrix for 34980A
4x128, 8x64 or 16x32 1-wire configurations
4x64 or 8x32 2-wire configurations
100V, 0.5A switch/carry current
Reed relays with high speed path switching
Relay cycle counter
Row expansion and row disconnect for creating larger matrices
Row protection bypass switch for low level measurements
Optional configuration block or high density screw terminal block
The Keysight 34934A module for the 34980A Multifunction Switch/Measure Unit offers the highest density matrix for connecting paths between your device under test and your test equipment, allowing for multiple instrument connections to multiple points on your device under test at the same time.

The matrix modules can be expanded with the row expansion kit allowing for up to 4096 cross points in a single mainframe. And with the unique row disconnect feature, you don´t have to worry about the added capacitance when connecting multiple matrix modules.

This matrix is easily configured in 1- or 2-wire configurations. The optional configuration block and high density screw terminal block provide ample space for wiring and ensure robust connections to your device under test. The standard 78-pin Dsub connectors also allow for easy connection using standard Dsub cables or mass interconnect solutions.