Keysight 34972A LXI Data Acquisition/Switch Unit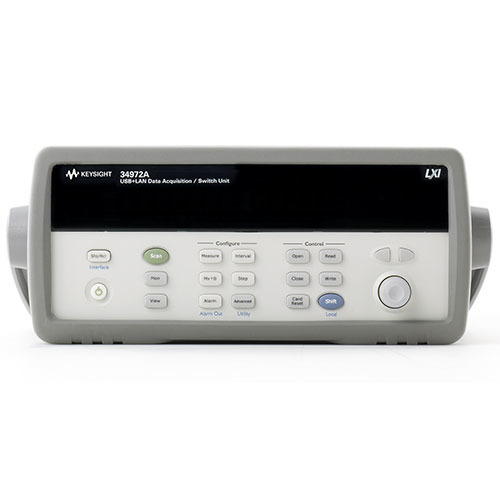 Brand:

Keysight

Condition:

New
3-slot mainframe with built-in 6.5 digit DMM and 8 optional switch and control plug-in modules
Measures and converts 11 different input signals: temperature with thermocouples, RTDs and thermistors; dc/ac volts; 2- and 4-wire resistance; frequency and period; dc/ac current
Up to 96 matrix crosspoints or 120 single-ended channels
50K readings of non-volatile memory holds data when power is removed
Monitor display mode lets you keep an eye on tests in progress
Scaling function for converting raw inputs into user-defined units
HI/LO alarm limits on each input channel, plus 4 TTL alarm outputs
Battery-backed real-time clock
Gigabit LAN (LXI), USB IO options for easy connectivity to your PC
Graphical Web interface for point and click monitor and control
USB flash drive support to copy/log data in standalone applications
A BenchVue software license (BV0006B) is now included with your instrument. BenchVue makes it simple to connect, control instruments, and automate test sequences.
Keysight will discontinue the 34972A on June 1, 2020. The last order date of the 34972A is May 31, 2020. Keysight's new DAQ970A is backwards compatible with the 34972A. The DAQ970A improves user experience with a color LCD, internal module calibration, and faster temperature accuracy and measurement speeds. MORE INFO...
The Keysight 34972A data acquisition / data logger switch unit consists of a three-slot mainframe with a built-in 6 1/2 digit digital multimeter. Each channel can be configured independently to measure one of 11 different functions without the added cost or hassles of signal-conditioning accessories. Choose from eight optional plug-in modules to create a compact data logger, full-featured data acquisition system or low-cost switching unit. On-module screw-terminal connections eliminate the need for terminal blocks and a unique relay maintenance feature counts every closure on every switch for easy, predictable relay maintenance. Our most popular module 34901A features a built-in thermocouple reference and 20 two-wire channels.
Keysight's BenchVue DAQ Control and Analysis app is available for use with the DAQ970A, 34970A, 34972A and 34980A. BenchVue gives you an intuitive interface for test configuration and real-time data display and analysis. Setup and make measurements quickly, export data or log and view real-time measurements with a variety of display types to interpret your data faster. BenchVue Software also supports many other Keysight instruments giving you a single interface for Keysight's most popular instruments.
The 34972A can accept any of the 34970A plug-in modules. With a simple address change the 34972A is easily integrated into an exiting test with no wiring or hardware changes. The plug-in modules also feature on-board screw terminals and relay closure count so you can create a compact data logger, full-featured data acquisition system or low-cost switching unit that is easy to connect, configure and use on the bench, on a network or in field applications.
Data Acquisition/Switch Unit Modules
Model
Description
Speed (Ch/Sec)
Max Voltage
Max Current
Comments
34901A
20-ch. multiplexer (2/4-wire)
60
300 V
1 A
2 current channels (22 ch. total); built-in cold junction reference; connects to internal DMM
34902A
16-ch. multiplexer (2/4-wire)
250
300 V
50 mA
Built-in cold junction reference; reed relays multiplex inputs to internal DMM
34903A
20-ch. actuator/GP switch
120
300 V
1 A
Form C (SPDT) switches; no connection to internal DMM

34904A
4x8 matrix
120
300 V
1 A
2-wire, full crosspoint; no connection to internal DMM
34905A
2-GHz dual 1:4 RF mux, 50 ohm
60
42 V
0.7 A
1-GHz through provided BNC-to-SMB adapter cables; no connection to internal DMM
34906A
2-GHz dual 1:4 RF mux, 75 ohm
60
42 V
0.7 A
1-GHz through provided BNC-to-SMB adapter cables; no connection to internal DMM
34907A
Two 8-bit digital I/O ports
26-bit, 100-kHz event counter
Two 16-bit analog outputs
N/A
N/A
N/A
42 V
42 V
±12V
400 mA

10 mA
Open Drain
Gated, selectable input theshold
Earth referenced, calibrated; no connection to internal DMM
34908A
40-ch. single-ended multiplexer
60
300 V
1 A
Common low, no 4-wire meas. Built-in cold junction reference; connects to internal DMM