Keysight 53147A Microwave Frequency Counter
Keysight 53147A Microwave Frequency Counter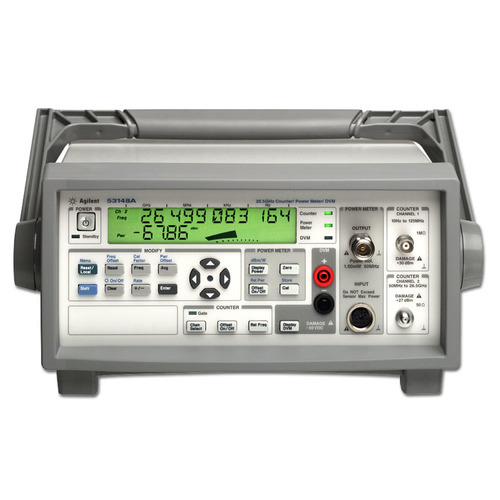 Product Features
Microwave Counter/Power Meter/DVM
Single, ultra-wideband CW microwave counter input, 50 MHz to 46 GHz
-70 dBm to +44 dBm power meter range with Keysight 8480 series sensors
High resolution/accuracy +/- 50 Vdc DVM
GPIB and RS-232 interfaces standard
Lightweight, rugged and a battery option for complete portability in the field
True power meters to meet your laboratory-accuracy requirements in the field
Whether you are installing or maintaining cell-site to base-station links, business-to-business communication links, digital radio links (along railroads, pipelines or power lines) or even satellite ground stations, installing and maintaining microwave links typically requires three pieces of equipment. These are a CW microwave counter, a true power meter and a dc DVM.
The 53140 series reduces the weight, volume and hassle of carrying multiple pieces of equipment in the field by combining these three instruments into one. Its rubber bumpers make it rugged and ready to withstand the elements. You won't have to worry about ac power availability at the site with the 53140 series' battery option. Plus its LCD display with a switchable backlite saves on battery life.
CW Microwave Counters up to 46 GHz
Choose the frequency range you need. The 53140 series has three ranges; 20 GHz, 26.5 GHz and 46 GHz. The ultra-wideband microwave input covers from 50 MHz up to the maximum frequency. This reduces the need for channel switching. You won't have to wait for resolution that is not needed as the resolution is selectable from 1 Hz to 1 MHz. For better measurement accuracy over time and temperature, an optional oven timebase is available.
True Power Meter with a Wide Selection of Sensors
The 53140 series true power meter provides laboratory instrument accuracy in a rugged, field-ready package. Obtain 0.01 dB resolution and 0.02 dB basic instrument accuracy where you need it most—on site. The graphical peaking meter allows for fast and easy power adjustments. For more flexibility, a wide range of power sensors is available (Keysight 8480 series) with a power range from -70 dBm to +44 dBm.
DC DVM for AGC and Power Supply Measurements
A ±50 Vdc DVM monitors the microwave receiver's AGC circuitry for assistance during antenna alignment. The DVM can also check the -48 Vdc power supplies typically found at telecom sites.
Advanced Instrument Features that Help Make the Job Easier
The Keysight 53140 series has the features you expect in a precision laboratory instrument. Relative readings for both frequency and power measurements show deviations from nominal values. Offset reading allows indirect measurement of either final frequency or power values or both. Averaging smooths out rapidly changing measurement displays for ease of viewing.
53140 Series Microwave Frequency Counters
53147A
50 MHz to 20 GHz
53148A
50 MHz to 26.5 GHz
53149A
50 MHz to 46 GHz
Microwave frequency counter (2 channels), power meter, DMM, resolution selectable from 1 Hz to 1 MHz. Simultaneous frequency and power measurements plus a DVM for up to +/- 50Vdc.