Keysight 6813B AC Power Source/Analyzer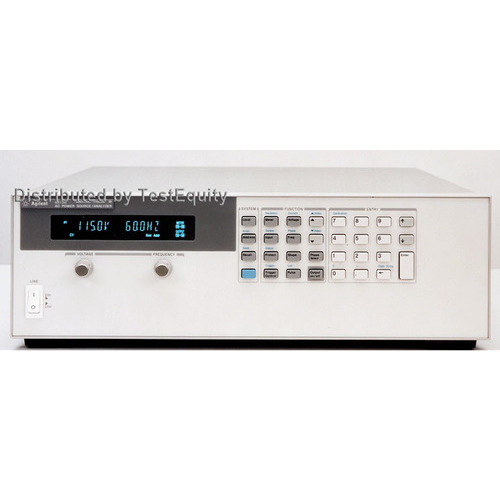 Condition:

Used

Drill Down Description:

AC Power Source/Analyzer

Model:

6813B

Product Code:

UsedList

Quote Required:

No

Web Meta Description:

Keysight 6813B AC Power Source AC Power Analyzer

S3 Part Number:

15551.5
1750 VA, single phase output
Ready to use "one-box" AC power source/analyzer
AC mains design verification system for sourcing and measuring
High peak current capability
Programmable output impedance
Graphical user interface software
Built-in GPIB and RS-232 interfaces (SCPI programming)
VXI plug&play drivers, Keysight VEE, NI LabVIEW
Built-in harmonic analysis capability
400 Hz power disturbances (115 Vrms, 28 VDC, 270 VDC)
RTCA-D0160/Mil-std 704 testing capability
2 measurement ranges (increases sensitivity by 10:1)
Built-in PIP E9012 compatability mode
The Complete AC Power Test Solution
Use a Keysight AC power source / power analyzer for your applications that require precise, accurate measurements and efficient analysis of AC power. These "one-box" solutions have generation, measurement and AC power analysis capabilities. Keysight's AC power sources are ideal for power-supply testing, AC-mains CE-mark testing, UPS testing and much more. Choose from a 375 VA (6811B), 750 VA (6812B) or a 1750 VA (6813B) AC power source with built-in AC power analyzer.
Since your product will have to operate in the real world of unpredictable ac power, you need to design and verify its correct operation under a wide range of AC power inputs. Brownouts, dropouts, sags, and other irregularities are not unusual in many communities today. Keysight AC sources have the features needed to easily accomplish this test goal either in an R&D environment or on the manufacturing test floor. If you plan to sell your products in a worldwide market, you will also need to test them at the line voltages and frequencies that they will eventually operate at. There is also additional testing needed to meet regulatory requirements for sale into some countries.
Keysight AC sources offer a complete solution for AC power testing, helping you to simplify this important task. These instruments combine the features of a power amplifier and arbitrary waveform generator to give you the ability to do all of the tests that you need. There are many standard pre-programmed waveforms, or you can use the transient generation system to simulate sophisticated and repeatable ac line disturbances. DC power can also be generated, either as a DC offset or as a pure DC signal.
Powerful Built-in Measurement Capabilities
Keysight AC sources have extensive 16-bit precision measurement capabilities which would normally require a number of complex measurement instruments, including a DMM (digital multimeter), oscilloscope, power analyzer, and harmonic analyzer. The precision measurements include:
rms, DC, AC + DC voltage and current
Peak voltage and current
Real, apparent, and reactive power
Harmonic analysis of voltage and current waveforms providing amplitude and phase up to the 50th harmonic
THD (total harmonic distortion)
Triggered acquisition of digitized voltage and current
Using the measurement capabilities of a Keysight ac source simplifies your test setups and helps you obtain accurate data quickly.