Keysight AC6801B Basic AC Power Source
Keysight AC6801B Basic AC Power Source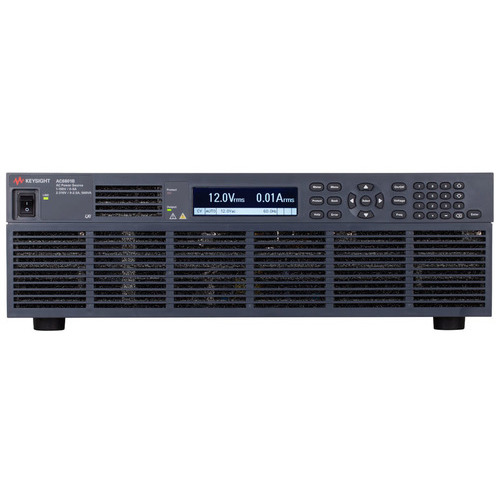 Product Features
AC Output Ratings:
Power: 500 VA
Ranges: 155 Vrms, 5 A or 310 Vrms, 2.5 A
Maximum peak current: 15 A for 155 Vrms; 7.5 A for 310 Vrms
Frequency: 40 to 500 Hz
DC Output Ratings:
Power: 400 W
Ranges: 219 V, 4 A or 438 V, 2 A
Measurements:
Voltage, current, power, AC+DC
Flexible IO: LAN/LXI Core and USB (std.), and GPIB (opt. plug-in card)
Intuitive N6700 style UI for ease of use and familiarity
Remote sensing capability
Three-year warranty
Easy Operation with an Intuitive, Time-Tested User Interface
The AC6801B's simple user interface allows you to easily access and view setup and measurement information directly from the front panel or programmatically. Whether you want to manually control your basic AC source on your R&D bench or program it to use in a fully automated test rack, it must provide stable, dependable AC power to your DUT.
Drop in replacement in form, fit and function to the AC6800A series, with higher output voltage at 310 Vrms and Remote Sensing capability
The 500 VA AC6801B basic AC power source offers an intuitive user interface that make it easy for engineers to access and view setup and measurement information directly from the front panel or programmatically via SCPI (Standard Commands for Programmable Instruments) commands.
Set the AC6801B display to show just the information you want
Simply click through the metering options to modify the display to show your measurement priorities and increasing levels of details. The information displayed indicates both the setting levels and the selected output coupling mode or configuration to allow you to control the AC source programmatically. Measurements may be AC coupled, DC coupled, or AC+DC coupled independent of the output coupling mode. Whether you use the front panel or control your AC source programmatically via SCPI (Standard Commands for Programmable Instruments), you can fully access all features.
Flexible I/O to meet your needs
Keysight AC6800B Series basic AC power sources come with LAN/LXI Core and USB interfaces (standard). For your legacy applications, an optional GPIB interface is also available that you can easily install yourself.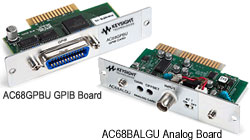 Optional analog input board to add basic transient signals
You can introduce basic transients using any AC6800B Series Basic AC Source with this Analog Card option. So equipped, AC6800B Series Sources can: generate non-sinusoidal output waveforms or output transient events, create analog waveforms using a waveform generator, and control the output voltage level with an external DC control signal. Note: You may use only the analog interface board OR the GPIB option, not both as these plug-in modules utilize the same slot. Please see video for additional information.
Set up, monitor and operate your AC6801B sources remotely
You can use the built-in Web server to remotely access and control your AC source via a standard browser. This control goes above and beyond the LXI Core specification, giving you the ability to monitor and control the instrument from anywhere.
The AC6801B Power Supply is ideally-suited for testing AC power adapters for battery-powered consumer electronics, avionics and aircraft cabin electronics and LED lighting ballast applications.
AC6800B Basic AC Power Sources
Specifications
AC6801B
AC6802B
AC6803B
AC6804B
Phases
Single-phase
Maximum output power
500 VA
1000 VA
2000 VA
4000 VA
AC output mode
Voltage range (low/high range)
155 Vrms

/

310 Vrms
Maximum rms current (low/high range)
5 A

/

2.5 A
10 A

/

5 A
20 A

/

10 A
40 A

/

20 A
Frequency
40 to 500 Hz
DC output mode
Voltage ranges (low/high range)
219 V

/

438 V
Maximum current (low/high range)
4 A

/

2 A
8 A

/

4 A
16 A

/

8 A
32 A

/

16 A
Power capacity
400 W
800 W
1600 W
3200 W
Included with AC6801B: 120 V Power Cord.