Keysight DSO7012B 2-channel, 100 MHz Oscilloscope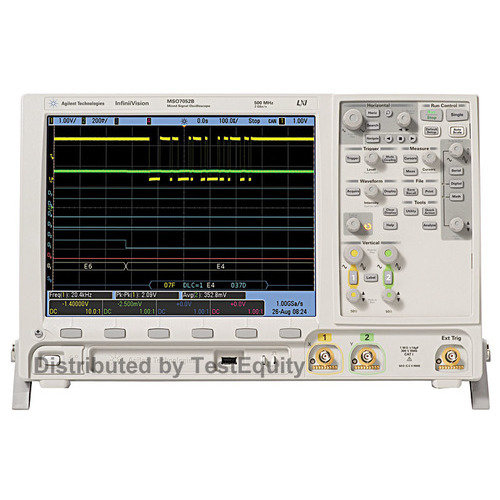 Brand:

Keysight

Condition:

New
100 MHz, 2 GSa/s sample rate
2 Channels
Flexibility to upgrade a DSO to an MSO at any time
Standard 8 Mpts MegaZoom III memory
NEW Serial Search and Navigate Capability
NEW Dedicated menu buttons streamline daily tasks
NEW Knobs are pushable for quick access to common features & modes
High-definition XGA (1024 x 768) color display with 256 intensity levels
Update rate to 100,000 waveforms/sec, uncompromised update rate
Powerful triggering including pulse, pattern, TV, CAN/LIN, I2C/SPI, I2S, RS-232/UART, MIL-STD-1553, Flexray, and USB
Standard USB, LAN (LXI Class C)
Front panel USB for memory stick storage

XGA video output
Built-in help system
Three-year warranty
Discontinued. Replaced with the DSOX3012T Oscilloscope.
Keysight DSO7012B InfiniiVision Oscilloscope
Get a better view of analog, digital, and serial signals with the new Keysight 7000B Series Oscilloscope.
It's hard to focus on a problem when you can't see it. With the new Keysight InfiniiVision 7000B Series oscilloscope you'll get expanded capabilities and the largest scope screen in the industry for real-time signal analysis. Count on Keysight to provide innovations that meet your ever-changing technical demands.
The new front panel design in the 7000B Series accommodates quick access to features an modes with more dedicated front panel buttons and pushable knobs. The new Serial Search and Navigate feature and associated front panel controls offers faster insight into particular serial packets of interest.
InfiniiVision 7000B features the industry's largest 12" XGA display, with high resolution about and small footprint to minimize space on the bench. InfiniiVision Series 7000B models provide the industry's fastest update rate - up to 100,000 waveforms per second - eliminating two common errors that can cause engineers to miss critical information: unresponsive controls with deep memory turned on, and traditional architectures that are blind to changes in signals being tested. For designs with both digital and analog signal measurements, the update rate is 5,000 times faster than any other available scope. This allows the user to view critical signal detail that competitive scopes miss with their longer dead times.

Keysight BenchVue Software for the PC
This free software option from Keysight offers engineers and technicians involved in design and validation an easy and intuitive way to accelerate testing with no programming necessary. Multiple instrument measurement visibility and data capture improves the way users interact with their instruments and the entire bench. BenchVue provides easy viewing, capturing and exporting of data and screen shots. Visit the BenchVue Product Page for more information including instrument compatibility.
Go to the Keysight DSO7000B, MSO7000B Series product page for more details, options, and accessories. >>