Keysight E3616A Power Supply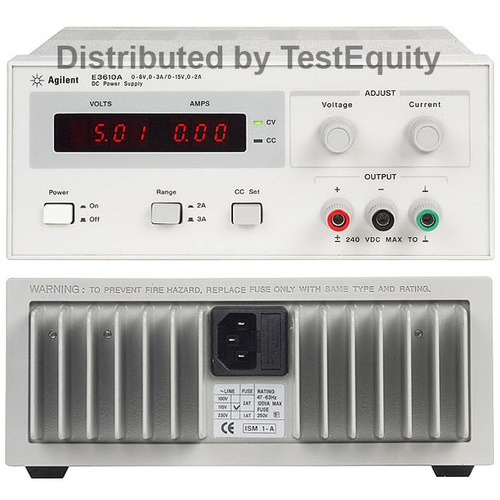 Brand:

Keysight

Condition:

Used
0.01% +2 mV load and line regulation
Ripple & noise <200 µVrms
Dual digital voltage and current meters
Constant voltage, constant current
10-turn voltage and current controls
<50 µsec transient response for 10 mV recovery from full load to half load.
E3614-17A: Overvoltage protection, rear output terminals, remote voltage programming (0-10 V), and remote sensing.
DISCONTINUED
These linear-regulated DC power supplies provide reliable and convenient dc power on a lab bench. The 10-turn pots and clear voltage and current meters allow fine adjustments to be made easily. These models are CV/CC, so they can serve as either voltage or current sources. The "CC Set" button allows the current setting to be viewed, allowing easy adjustment of a current limit. Either the positive or negative terminal may be connected to ground, creating a positive or negative voltage, or floated up to 240 V from ground.
E3610A, E3611A, E3612A
These flexible 30 watt DC power supplies have a single output with 2 ranges, providing more current at lower voltage levels.
E3614A, E3615A, E3616A, E3617A
These DC power supplies have many features normally available only in performance power supplies. Remote sensing eliminates the errors in voltage regulation due to voltage drops in the load leads. Delicate loads are protected by the overvoltage protection feature. Remote voltage signals can be used to control the power supply's output voltage and current levels.
Includes user's and service manual, calibration certs, and power cord.
30 Watt Models
60 Watt Models
Model
Range 1
Range 2
Model
Rating
E3610A
8 V, 3 A
15 V, 2 A
E3614A
8 V, 6 A
E3611A
20 V, 1.5 A
35 V, 0.85 A
E3615A
20 V, 3 A
E3612A
60 V, 0.5 A
120 V, 0.25 A
E3616A
35 V, 1.7 A
Note: These are single-output supplies with dual ranges.
E3617A
60 V, 1 A