Keysight MSO6054A Mixed Signal Oscilloscope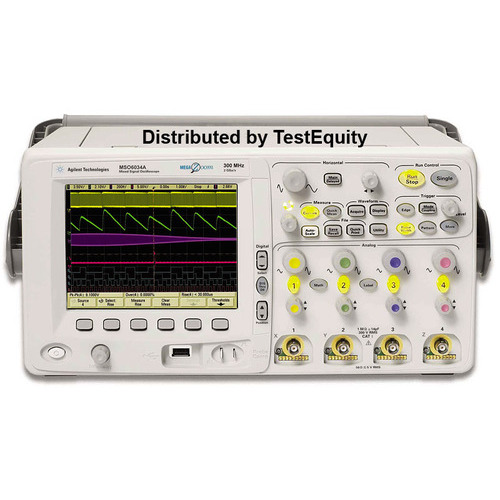 Brand:

Keysight

Condition:

Used

Family Models:

DSO6000A, MSO6000A Series
This is a discontinued product
100 MHz, 300 MHz, 500 MHz and 1 GHz bandwidth
Up to 4 GSa/s sample rate
2+16-channel, 4+16-channel mixed signal oscilloscope (MSO) and 2- or 4-channel digital storage oscilloscope (DSO) models
Includes 8 Mpts MegaZoom III deep memory
High-definition XGA (1024 x 768) color display system
Update rate to 100,000 waveforms/sec and 256 intensity levels
Flexibility to upgrade a DSO to an MSO at any time
Standard USB, LAN, GPIB and XGA video output
Front panel USB port for storage to USB flash drive
Analog HDTV, CAN, I2C, LIN, SPI, and USB triggering

AutoProbe interface
Built-in help system
3-Year warranty now standard
Bring your toughest problems into focus with the right combination of features and performance
If you work with both analog and digital circuitry, Keysight Technologies 6000 Series oscilloscopes can help you easily see more signal activity in your designs. The unique 2+16- or 4+16-channel mixed signal oscilloscope (MSO) models and the traditional 2- and 4-channel digital storage oscilloscope (DSO) models are optimized with the capabilities you need for verifying and debugging designs that include embedded 8- or 16-bit microcontrollers, DSPs, FPGAs, ADCs, DACs, and transducers. These scopes give you the tools you need to solve your mixed analog and digital engineering challenges more easily.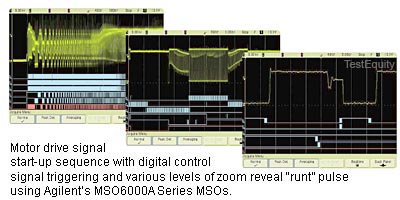 Easily see complex interactions with 2+16-channel or 4+16-channel mixed signal oscilloscopes (models MSO6000A)
The mixed signal oscilloscopes (MSOs), with 2 or 4 scope channels plus 16 logic channels, uniquely combine the detailed signal analysis of a scope with the multi-channel timing measurements of a logic analyzer. They let you see the complex interactions among your signals on up to 20 channels at the same time. No more guesswork and no more poking around to see a few channels at a time. These scopes can easily conquer mixed analog and digital debugging problems that a traditional scope can't begin to address, because they let you simultaneously test and monitor the high-speed digital control signals and the slower analog signals in your design.
MegaZoom III - fast waveform update rates, without compromise
With Keysight's MegaZoom III technology, the 6000 Series oscilloscopes provide fast waveform update rates, without compromise. These scopes can produce up to 100,000 real-time waveforms per second, without the need to select special acquisition modes that may entail tradeoffs in oscilloscope performance and functionality.
2- or 4-channel DSOs (model DSO6000A) – scopes that can grow with your needs
If your designs include heavy analog content, the DSO6000A will give you the number of channels and measurement power you need, including MegaZoom III deep memory, high-definition display, and flexible triggering. Whether you're testing designs with four inputs, such as anti-lock brakes, or monitoring multiple outputs of a power supply, the 4-channel models help you perform your debug and verification with ease. If you don't need 4 channels and good value is a primary concern, the 2-channel models bring you all the benefits of MegaZoom III deep memory, high-definition display, and flexible triggering. They give you an affordable way to see long time periods while maintaining a high sample rate so you can see details in your designs.
After-purchase upgrade options
You can expand the capabilities of all 6000 models whenever you choose. You can easily upgrade your DSO to include the 16 timing channel MSO capabilities on your scope after purchase. The upgrade is easy and affordable.
Full-scale connectivity
The 6000 Series scopes come with standard USB 2.0 device, 10/100 Mbps LAN and GPIB interfaces on the rear panel and USB 1.1 host interfaces on the front and rear panels. A built-in front-panel USB port makes it easy for you to store waveform data, screen images, and scope setups to a USB flash drive. You can store your waveform images as BMP files and your waveform data as CSV files for easy import into other PC applications.
Powerful triggering
Full-width pattern triggering. With mixed analog and digital designs, sometimes it is hard to trace an anomaly back to its root cause unless you can trigger on it and correlate it with other signals. With the 6000 Series scopes, triggering is no longer a hassle. They come with flexible triggering capabilities across all channels so you can easily isolate and analyze complex signals and interactions common in your mixed analog and digital designs. Trigger on any combination of events across all 4 scope and 16 logic channels. Serial bus triggering Keysight's 6000 Series scopes also allow you to trigger on the industry's most popular serial bus standards.
I2C (Inter-Integrated Circuit): The full range of I2C triggering includes start or stop condition, missing acknowledge, restart, EEPROM data read, address and/or data frame, or 10-bit write.
SPI (Serial Peripheral Interface): SPI triggering lets you trigger on user-definable framing, number of bits per frame, as well as particular data patterns.
CAN (Controller Area Network): CAN triggering synchronizes to the start of a CAN frame on any CAN high or CAN low signal.
LIN (Local Interconnect Network): Trigger on LIN sync break at the beginning of a message frame.
USB (Universal Serial Bus): USB is quickly becoming the connection of choice for PC peripherals. Make your testing easy with start-of-packet (SOP), end-of-packet (EOP), reset complete (RC), enter suspend, or exit suspend modes.
Serial Bus Triggering and Hardware-Accelerated Decode Options (N5423A and N5424A). Keysight Technology's triggering and decode options for the 6000 Series oscilloscopes offer hardware-accelerated decode to help you debug I2C, SPI, CAN and LIN serial buses using the industry's fastest decode update rates. Fast decode update rates enable you to find and debug random and intermittent errors and signal-integrity problems that you could easily miss using other serial bus decode tools. More info...
Analog HDTV/EDTV triggering. Capturing and analyzing baseband high-definition TV waveforms with a scope has never been easier. The 6000 Series supports analog HDTV/EDTV triggering for emerging standards like 1080i, 1080p, 720p and 480p as well as standard video triggering on any line within a field, all lines, all fields, odd or even fields for NTSC, SECAM, PAL and PAL-M video signals.
Other standard features
Built-in help at your fingertips. An innovative built-in help system gives you quick access to the help you need.
Deep memory transfer over the bus. Transfer all of your data over the bus, even when using deep memory. Typically it takes less than 5 seconds to transfer 4 MB of data over USB.
Easy software upgrades. The system software is stored in Flash ROM that can scope's upgraded easily from the built-in USB port. For a free copy of the system
AutoProbe interface automatically sets probe attenuation factors and provides power for selected Infiniium active probes supporting the award-winning 1130A 1.5 GHz InfiniiMax differential active probe and 1156A 1.5 GHz single-ended active probe.
Waveform math with FFTs. Analysis functions include subtract, multiply, integrate, and differentiate, as well as FFT (fast Fourier transforms).
250 ps peak detect on the 500 MHz & 1 GHz models and 500 ps peak detect on the 300 MHz models means you won't have to worry about missing narrow glitches.
Autoscale lets you quickly display any active signals, automatically setting the vertical, horizontal and trigger controls for the best display.
Easy printer connectivity. Use the standard USB host port on the rear panel to easily connect HP Deskjet, Laserjet and HP PCL 3.0 compatible printers.
Built-in 5-digit hardware counter measures frequency up to the bandwidth of the scope (max 1 GHz). Counter resolution can be increased to 8 digit with an external 10 MHz reference.
Built-in 10 MHz reference in/out port lets you synchronize multiple measurement instruments in a system or get higher accuracy timebase using high accuracy external clock.
Trig Out port on the rear panel provides an easy way to synchronize your scope to other instruments.
High resolution mode offers up to 12 bits of resolution in real-time (single-shot) modes, reducing noise.

Model
Bandwidth
Max.
Sample Rate*
Channels
(scope+logic)
DSO6012A
100 MHz
2 GSa/s
2 CH
MSO6012A
100 MHz
2 GSa/s
2 + 16 CH
DSO6014A
100 MHz
2 GSa/s
4 CH
MSO6014A
100 MHz
2 GSa/s
4 + 16 CH
DSO6032A
300 MHz
2 GSa/s
2 CH
MSO6032A
300 MHz
2 GSa/s
2 + 16 CH
DSO6034A
300 MHz
2 GSa/s
4 CH
MSO6034A
300 MHz
2 GSa/s
4 + 16 CH
DSO6052A*
500 MHz
4 GSa/s
2 CH
MSO6052A*
500 MHz
4 GSa/s
2 + 16 CH
DSO6054A*
500 MHz
4 GSa/s
4 CH
MSO6054A*
500 MHz
4 GSa/s
4 + 16 CH
DSO6102A*
1 GHz
4 GSa/s
2 CH
*
1 GHz
4 GSa/s
2 + 16 CH
DSO6104A*
1 GHz
4 GSa/s
4 CH
MSO6104A*
1 GHz
4 GSa/s
4 + 16 CH
* Max sample rate and memory with 2channels interleaved. Memory: MegaZoom III 8 Mpts standard.

Keysight BenchVue Software for the PC
This free software option from Keysight offers engineers and technicians involved in design and validation an easy and intuitive way to accelerate testing with no programming necessary. Multiple instrument measurement visibility and data capture improves the way users interact with their instruments and the entire bench. BenchVue provides easy viewing, capturing and exporting of data and screen shots. Visit the BenchVue Product Page for more information including instrument compatibility.
All models include user, service and programmer guides, power cord, one 10073C 10:1 passive probe per scope channel, front panel cover, Keysight IO libraries suite, calibration certs. MSO models include 16 channel flying lead set logic probe (two pods with eight channels each). Three-year warranty.
Keysight InfiniiVision Oscilloscope Probe Selection Guide >>
Download Trial Software and Updates for Keysight 6000 Oscilloscopes >>