Keysight MSO9064A Mixed Signal Oscilloscope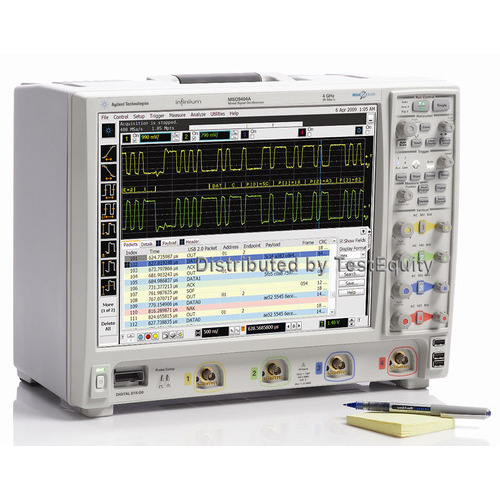 Brand:

Keysight

Condition:

Rental

Meta Keywords:

Keysight MSO9064A,Keysight,MSO9064A
600 MHz bandwidth across all 4 analog channels
4 analog channels + 16 digital channels
4 ch x 5 GSa/s or 2 ch x 10 GSa/s
Standard 20 Mpts memory per channel, upgradeable to 1 Gpts
15" Color XGA TFT-LCD with touch-screen
LAN (LXI Class C) connectivity
Front panel USB for storage devices and peripherals
Wide range of debug and compliance application software
Built-in information system with task-oriented setup guide

Windows 7 Embedded
Three-year warranty
Keysight's Infiniium MSO9064A, equipped with a 15" XGA display, comes in a package that is just 9" deep and weighs only 26 pounds — preserving your limited bench space. This scope is engineered to give you the broadest measurement capability available to meet your needs both today and in the future. 16 fully integrated, time-aligned digital channels give you insight into timing relationships and allow precise triggering. Take advantage of optional integrated protocol viewers to quickly isolate physical layer issues causing errors. Customize your toolset with our debug and compliance packages to tailor the scope to your needs.
Keysight's MSO9064A is a member of the 9000 Series of oscilloscopes — the world's first scopes with integrated logic analysis channels and a protocol analyzer viewer for buses such as PCIe™ and USB. These integrated features extend scope functionality, making it easier for engineers to test complex designs, and giving companies higher oscilloscope utilization for better return on capital equipment.
Get three instruments in one:
Scope: The powerful features of the MSO9064A oscilloscope with InfiniiScan advanced triggering, coupled with superior specifications give you precise signal representation.
Logic Analyzer: 16 fast, deep-memory digital channels allow you to see critical data values and timing relationships.
Protocol analyzer: Choose integrated protocol triggering and viewer to quickly drill down into packets and time correlate between protocol and physical layers.
Widest range of debug and compliance software applications:
Serial protocol applications including I²C, SPI, RS-232, CAN, LIN, Flexray, and JTAG
FPGA dynamic probe application
Jitter analysis applications including EZJIT
MATLAB® software available directly from Keysight for making your own custom measurement and analysis routines, user-defined filters, or instrument applications.
Compliance testing applications include communication mask testing, DDR1, DDR2, DDR3, and Ethernet.
Most innovative form factor.
The MSO9064A is equipped with a 15-inch display – the largest in the industry – that offers 57 percent more display area than scopes with 12-inch displays. Larger displays have become increasingly important as scopes need more space to display digital and serial signals in addition to traditional scope channels. The MSO9064A, designed with ASICs and Xilinx Virtex-5 technology, is among the thinnest, lightest and most portable in its class, making it ideal for teams that share a scope.
Includes: 1-Year warranty, four N2873A 500 MHz passive probes, probe accessory pouch (mounts on rear of instrument), Keysight I/O libraries suite 15.0, power cord, front panel cover, keyboard, mouse, stylus, channel flying lead set logic probe, MSO cable and calibration fixture.

Keysight BenchVue Software for the PC
This free software option from Keysight offers engineers and technicians involved in design and validation an easy and intuitive way to accelerate testing with no programming necessary. Multiple instrument measurement visibility and data capture improves the way users interact with their instruments and the entire bench. BenchVue provides easy viewing, capturing and exporting of data and screen shots. Visit the BenchVue Product Page for more information including instrument compatibility.