Keysight MSOX4154A Mixed Signal Oscilloscope
Keysight MSOX4154A Mixed Signal Oscilloscope
20835.23
MFG #: MSOX4154A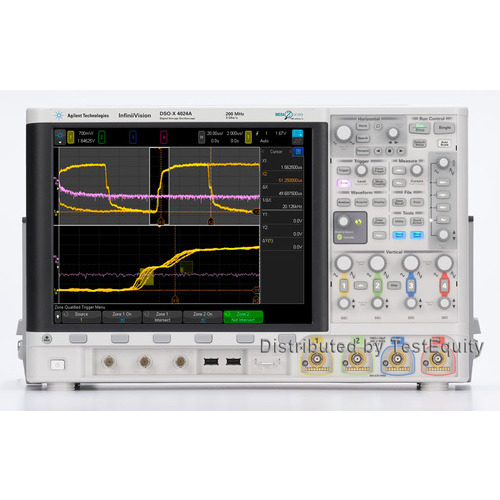 Manufacturer:

Keysight

Condition:

Used

Meta Keywords:

agilent MSOX4154A, Mixed Signal Oscilloscope, Touch Screen

200, 350, 500 MHz, 1, 1.5 GHz models
5 GSa/s sample rate
2- and 4-ch DSO models + 16 digital channels (MSO models)
1,000,000 wfms/sec update rate
4 Mpts MegaZoom IV uncompromised smart memory standard
12.1-inch capacitive touch display
Segmented memory standard
Hardware-based serial decode/trigger, including USB 2.0
Three-year warranty
No Other Oscilloscope Can Touch It


The InfiniiVision InfiniiVision 4000 X-Series oscilloscopes boast up to 1.5 GHz bandwidth and deliver best-in-class waveform update rates, as well as the the latest capacitive touch screen technology which dramatically speeds setup and operation for unprecedented usability in an embedded OS scope. This, coupled with a 5 GSa/s sample rate, 4 Mpts Memory and Keysight's innovative InfiniiScan Zone touch triggering and the Industry's largest display of 12.1 inches, ensures that your oscilloscope experience will be completely redefined.
Experience the speed with the ability to find the most difficult problems in your design with 1 million waveforms/sec update rate, MegaZoom IV smart memory and standard segmented memory.
Experience the usability of the first oscilloscope designed for touch capability with the industry's largest 12.1-inch capacitive touch display and innovative InfiniiScan Zone touch triggering.

MegaZoom IV custom ASIC technology powers the fastest wave-
form update rates, responsive deep memory, integrated MSO, integrated industry-exclusive WaveGen, and integrated protocol analyzer.
Experience the integration of 5 instruments in one: oscilloscope, logic analyzer, serial protocol analyzer, WaveGen built-in dual channel arbitrary/function generator, and integrated 3-digit voltmeter, with the ability to upgrade your scope at any time for complete investment protection.
Mixed signal oscilloscope (MSO): Integrated 16 digital channels
With an additional 16 integrated digital channels, you now have up to 20 channels of time-correlated triggering, acquisition and viewing on the same instrument. This is especially important in today's embedded designs with sophisticated digital control circuitry.
Fully upgradable oscilloscope
As your requirements change, your investment is protected. If you need more bandwidth (up to the best-in-class 1.5 GHz), dual-channel WaveGen, DVM or measurement applications in the future, you can easily add them at any time. And, unlike other oscilloscopes in this class, you can buy a 2- or 4-channel DSO and enable the 16 digital channels already in the instrument at any time to make it an MSO (Option DSOXPERFMSO).
Keysight InfiniiVision 4000 X-Series Oscilloscopes
5 GSa/s | 4 Mpts Memory
DSOX4022A
200 MHz, 2 Ch.
DSOX4024A
200 MHz, 4 Ch.
DSOX4032A
350 MHz, 2 Ch.
DSOX4034A
350 MHz, 4 Ch.
DSOX4052A
500 MHz, 2 Ch.

DSOX4054A
500 MHz, 4 Ch.
DSOX4104A
1 GHz, 4 Ch.
DSOX4154A
1.5 GHz, 4 Ch.
MSOX4022A
200 MHz, 2+16 Ch.
MSOX4024A
200 MHz, 4+16 Ch.
MSOX4032A
350 MHz, 2+16 Ch.
MSOX4034A
350 MHz, 4+16 Ch.
MSOX4052A
500 MHz, 2+16 Ch.
MSOX4054A
500 MHz, 4+16 Ch.
MSOX4104A
1 GHz, 4+16 Ch.
MSOX4154A
1.5 GHz, 4+16 Ch.

Keysight BenchVue Software for the PC
This free software option from Keysight offers engineers and technicians involved in design and validation an easy and intuitive way to accelerate testing with no programming necessary. Multiple instrument measurement visibility and data capture improves the way users interact with their instruments and the entire bench. BenchVue provides easy viewing, capturing and exporting of data and screen shots. Visit the BenchVue Product Page for more information including instrument compatibility.
Frequency Response Analysis (FRA)
FRA is a critical measurement used to characterize the frequency response (gain and phase versus frequency) of a variety of today's electronic designs including passive filters, amplifier circuits and negative feedback networks of switch mode power supplies (loop response). While network analyzers or standalone low-frequency FRAs are typically used to perform these types of measurements, however, now automatic frequency response analysis is now available in Keysight's InfiniiVision 4000 X-Series oscilloscopes with option DSOX4FRA.
DSOX4NRZ user-definable Manchester/NRZ trigger and decode software
DSOX4NRZ can be customized to support a broad range of serial protocols, including the PSI5 automotive sensor bus and NFC-F. This option automatically demodulates near field communication RF signals (13.56 MHz carrier) at 212 kbps and 424 kbps (NFC-F).
Included: One per channel N2894A 700 MHz passive probe, front panel cover, user's guide, service guide, and programmers manual CD, localized interface and power cord. MSO models also include N6450-60001 16-digital channel MSO cable.
A BenchVue software license (BV0004B) is now included with your instrument. BenchVue makes it simple to connect, control instruments, and automate test sequences.