Keysight MSOX6004A Digital Storage Oscilloscope
Keysight MSOX6004A Digital Storage Oscilloscope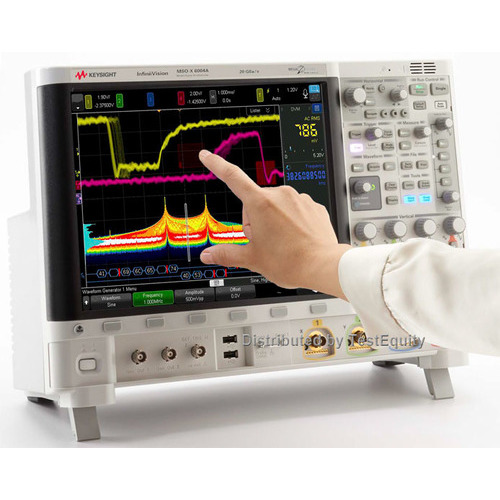 Product Features

1, 2.5, 4, 6 GHz bandwidth (upgradable)
20 GSa/s sampling rate
2 or 4 Analog channels plus 16 Digital Channels (MSO6002A, MSO6004A)
> 450,000 wfms/sec update rate
Max memory depth: 4 Mpts
12.1-inch capacitive multi-touch screen with InfiniiScan Zone touch trigger
Industry-leading noise floor and waveform update rate
Standard histogram and color grade, plus enhanced color FFT
Optional jitter and real-time eye diagram analysis
The power of 6 integrated instruments in 1, fully upgradable: Oscilloscope, 16 digital channels, serial protocol trigger and decode (option), dual-channel function/arbitrary waveform generator (option), 3-digit digital voltmeter (option), 10-digit counter and totalizer (option)
Voice control in 14 languages
Three-year warranty
The New Bandwidth Standard: Capture higher-frequency waveforms
The IniniiVision 6000 X-Series oscilloscopes are designed for the most demanding engineers who want bandwidth, visualization power and the flexibility that comes with integrated capabilities, in a portable package with a familiar embedded OS user interface — all at an affordable price. The IniniiVision 6000 X-Series delivers to 6 GHz bandwidth and a 20-GSa/s sampling rate so you can confidently measure signals with rise times faster than 150 ps or signals with higher than 2 Gbps NRZ (non-return to zero) data signal rates.
New visualization standard: Isolate waveforms of interest
Additionally, the 6000 X-Series set the new visualization standard with an industry-leading 450,000 waveforms-per-second update rate that lets you see more of your signal behavior so you have more confidence in your design. Standard segmented memory turns the oscilloscope into an effective ultra-deep memory capture tool.
Portability and a familiar embedded OS user interface
With the industry's largest 12.1-inch capacitive touch screen with multi-touch and voice control, you may be surprised just how easy it is to use the InfiniiVision 6000 X-Series. It is "designed for touch," so you spend less time setting up your scope and more time designing and testing. And capabilities such as the innovative InfiniiScan Zone touch trigger let you simply draw a box around the signals of interest, and the scope creates the trigger for you.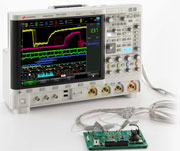 MSO with N2756A Digital Cable
Integrate a digital bus: Optional mixed signal oscilloscope (MSO models)
With an additional optional 16 integrated digital channels (Option DSOX6MSO) probed by a newly designed digital channel cable, you now have up to 20 channels of time-correlated triggering, acquisition, and viewing on the same instrument. This capability is especially important in today's embedded designs with sophisticated digital control circuitry.
| | | | | |
| --- | --- | --- | --- | --- |
| | 1 GHz | 2.5 GHz | 4 GHz | 6 GHz |
| For 2 channel models | Default | DSOX6B10T252BW | DSOX6B10T402BW | DSOX6B10T602BW |
| For 4 channel modes | Default | DSOX6B10T254BW | DSOX6B10T404BW | DSOX6B10T604BW |
Sample model configurations
1 GHz, 4 + 16 channel: MSOX6004A only
4 GHz, 4 + 16 channel: MSOX6004A and DSOX6B10T404BW
Frequency Response Analysis (FRA)
FRA is a critical measurement used to characterize the frequency response (gain and phase versus frequency) of a variety of today's electronic designs including passive filters, amplifier circuits and negative feedback networks of switch mode power supplies (loop response). While network analyzers or standalone low-frequency FRAs are typically used to perform these types of measurements, however, now automatic frequency response analysis is now available in Keysight's InfiniiVision 6000 X-Series oscilloscopes with option DSOX6FRA.
DSOX6NRZ user-definable Manchester/NRZ trigger and decode software
DSOX6NRZ can be customized to support a broad range of serial protocols, including the PSI5 automotive sensor bus and NFC-F. This option automatically demodulates near field communication RF signals (13.56 MHz carrier) at 212 kbps and 424 kbps (NFC-F).

Keysight BenchVue Software for the PC
This software option from Keysight offers engineers and technicians involved in design and validation an easy and intuitive way to accelerate testing with no programming necessary. Multiple instrument measurement visibility and data capture improves the way users interact with their instruments and the entire bench. BenchVue provides easy viewing, capturing and exporting of data and screen shots. Visit the BenchVue Product Page for more information including instrument compatibility.
Included: Certificate of calibration (2-year calibration interval), N2894A 700-MHz 10:1 passive probe (one per channel), N2756A 16-digital-channel MSO cable (MSO models), multi-language support interface, voice control support, power cord, front panel protective cover, and user's guide, service guide, and programmer's manual on CD.
MATLAB software is available directly from Keysight for making your own custom measurement and analysis routines, user-defined filters or instrument applications.
A BenchVue software license (BV0004B) is now included with your instrument. BenchVue makes it simple to connect, control instruments, and automate test sequences.
Manufacturer
Model
Description
Keysight
DSOX6APPBNDL
Application Bundle Enables ALL software options (excluding bandwidth and MSO): DSOX6JITTER, DSOX6WAVEGEN2, DSOX6PWR, DSOX6FRA, DSOX6MASK, DSOX6USBSQ, DSOX6VID, DSOX6EMBD, DSOX6COMP, DSOX6USBFL, DSOX6USBH, DSOX6AUTO, DSOX6SENSOR, DSOX6FLEX, DSOX6AUDIO, DSOX6AERO, DSOX6CXPI, DSOX6NRZ, DSOX6UPD
Keysight
DSOX6EMBD
Embedded Serial Triggering and Analysis I2C, SPI. SPI requires 4, 2+16, or 4+16 channel 6000 X-Series
Keysight
DSOX6COMP
Computer Serial Triggering and Analysis RS232/UART
Keysight
DSOX6USBFL
Serial Decode and Triggering USB 2.0, full-/low-speed
Keysight
DSOX6USBH
Serial Decode and Triggering USB 2.0, Hi-speed
Keysight
DSOX6AUTO
Automotive Serial Triggering and Analysis CAN/LIN
Keysight
DSOX6FLEX
FlexRay Serial Triggering and Analysis
Keysight
DSOX6AUDIO
Audio Serial Triggering and Analysis I2S
Keysight
DSOX6AERO
MIL-STD 1553 and ARINC 429 Serial Triggering and Analysis
Keysight
DSOX6WAVEGEN2
WaveGen AWG Dual-channel, 20 MHz
Keysight
DSOX6JITTER
Jitter and Real-time Eye diagram Analysis
Keysight
DSOXDVMCTR
Integrated Digital Voltmeter With 10-digit counter. Included.
Keysight
DSOX6PWR
Power Analysis Application
Keysight
DSOX6MASK
Mask Limit Testing
Keysight
DSOX6USBSQ
Signal Quality Test USB 2.0
Keysight
DSOX6VID
Enhanced Video/TV Application Package
Keysight
DSOX6FPGAX
FPGA Dynamic Probe Option For Xilinx


Discontinued.

Keysight
DSOXEDK
Educators Training Kit For InfiniiVision 2000, 3000 and 4000 X-Series Oscilloscopes (DSOX2000-EDK, DSOX3000-EDK, DSOX4000-EDK) Now included at no charge.
Keysight
N8900A-001
InfiniiView Oscilloscope Analysis Software Base license, transportable perpetual license.
Keysight
N2894A
Passive Probe 10:1, 700 MHz, 1.3m
Keysight
N2756A
16-Channel MSO Logic Cable Kit Improved replacement for N6450-60001
Keysight
N2870A
Passive Probe 1:1, 35 MHz
Keysight
10076B
High-Voltage Passive Probe 4 kV, 100:1, 250 MHz


Discontinued.

Please see 10076C High Voltage Probe.
Keysight
N2795A
Active Probe 1 GHz, For InfiniiVision and Infiniium oscilloscopes
Keysight
N2796A
Active Probe 2 GHz, For InfiniiVision and Infiniium oscilloscopes
Keysight
N2797A
Active Probe - 1.5 GHz extreme temperature 1.5 GHz, -40°C to +85°C, single-ended
Keysight
N2750A
InfiniiMode Differential Probe 1.5 GHz, Dual attenuation settings, Built-in headlight
Keysight
N2751A
InfiniiMode Differential Probe 3.5 GHz, Dual attenuation settings, Built-in headlight
Keysight
N2752A
Differential Probe 6 GHz
Keysight
N2790A
Differential Probe 500:1, 100 MHz, 1,400 V
Keysight
N2791A
Differential Probe 100:1, 25 MHz, 700 V
Keysight
N2818A
Differential Probe 200 MHz, 10:1, with AutoProbe interface
Keysight
N2819A
Differential Probe 800 MHz, 10:1, with AutoProbe interface
Keysight
1147B
AC/DC Current Probe DC to 50 MHz/15A AC/DC
Keysight
N2893A
AC/DC Current Probe 100 MHz, 15A
Keysight
N2820A
High Sensitivity AC/DC Current Probe 2-Channels, 5 A, 3 MHz, >20,000:1
Keysight
N2821A
High Sensitivity AC/DC Current Probe 1-Channel, 5 A, 3 MHz, >1,000:1
Keysight
N4865A
GPIB to LAN Adapter
Keysight
N2111A
Rack Mount Kit
Keysight
N2733B
Soft Carrying Case Includes padded sides and bottom, and storage pouch for probes and additional accessories. (Replaces N2733A)
Keysight
N2112A
User's Manual Hard copy printed version
Keysight
DSOX6B10T252BW
Bandwidth Upgrade For DSOX6002A & MSOX6002A. Increase to 2.5 GHz
Keysight
DSOX6B10T402BW
Bandwidth Upgrade For DSOX6002A & MSOX6002A. Increase to 4 GHz
Keysight
DSOX6B10T602BW
Bandwidth Upgrade For DSOX6002A & MSOX6002A. Increase to 6 GHz
Keysight
DSOX6B10T254BW
Bandwidth Upgrade For DSOX6004A & MSOX6004A. Increase to 2.5 GHz
Keysight
DSOX6B10T404BW
Bandwidth Upgrade For DSOX6004A & MSOX6004A. Increase to 4 GHz
Keysight
DSOX6B10T604BW
Bandwidth Upgrade For DSOX6004A & MSOX6004A. Increase to 6 GHz
Keysight
DSOX6SENSOR
SENT Fixed Perpetual License Single Edge Nibble Transmission (SENT) trigger and decode. Trigger and decode on a number of different SENT conditions.
Keysight
DSOX6FRA
Frequency Response Analysis 20 Hz to 20 MHz, Dynamic range: > 80 dB (typical), for 6000 X-Series
Keysight
DSOX6NRZ
Manchester and NRZ Trigger and Decode Encoding: Manchester (2 kbps to 5 Mbps) or NRZ (5 kbps to 5 Mbps)
Keysight
DSOX6UPD
USB PD Trigger and Decode USB-PD (Power Delivery) protocol testing for InfiniiVision 6000 X-Series, BMC encoded, 300kbps
Keysight
N7040A
Rogowski AC Current Probe 3,000 A, 1 Hz - 23 MHz
Keysight
N7041A
Rogowski AC Current Probe 600 A, 12 Hz - 30 MHz
Keysight
N7042A
Rogowski AC Current Probe 300 A, 9.2 Hz - 30 MHz
Keysight
N7026A
High-Sensitivity Current Probe 1 mA/div, 30 Arms/50 Apk, 1:1/5:1 attenuation
Keysight
DSOX6B25T402BW
Bandwidth Upgrade For DSOX6002A & MSOX6002A. Increase from 2.5 GHz to 4.0 GHz
Keysight
DSOX6B25T404BW
Bandwidth Upgrade For DSOX6004A & MSOX6004A. Increase from 2.5 GHz to 4 GHz
Keysight
DSOX6B25T602BW
Bandwidth Upgrade For DSOX6002A & MSOX6002A. Increase from 2.5 GHz to 6.0 GHz
Keysight
N5467B-4FP
InfiniiVision User-Defined Application (UDA) Factory-installed fixed perpetual license
Keysight
N5467B-4TP
InfiniiVision User-Defined Application (UDA) User-installed transportable license