Keysight N1911A/101 Power Meter, Single Channel
Keysight N1911A/101 Power Meter, Single Channel
15586.1
MFG #: N1911A 101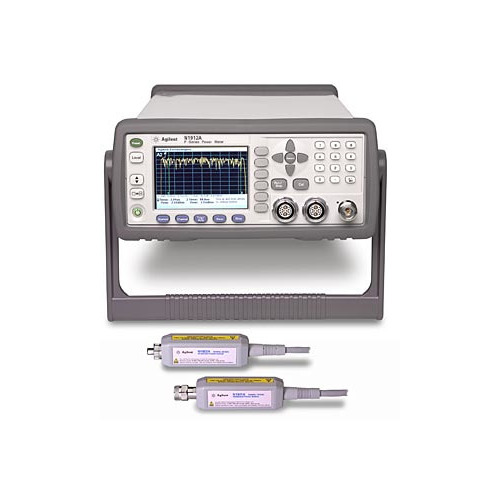 Product Features
30 MHz video bandwidth
Single shot real time capture at 100 Msample/s per second
Key Measurements: - peak, average, peak-to-average ratio, rise time, fall time and pulse width
22 Predefine formats: WiMAX, DME, HSDPA, etc.
One screen view for pulse measurement analysis: Auto Scale, Auto Gate, Rise/Fall Time, Duty Cycle, etc.
Internal Zeroing and Calibration while connecting to the DUT
USB, LAN and GPIB standard
LXI-C Compliance
Three-year warranty
The P-Series power meters (N1911A single channel and N1912A dual channel) and P-Series wideband power sensors (N1921A, 50 MHz - 18 GHz, and N1922A, 50 MHz - 40 GHz) provide accurate and repeatable power measurements for R&D and manufacturing engineers, in markets including aerospace and defense (radar), wireless communications and wireless 802.11a/b/g networking. Measurements provided by this meter/sensor combination include peak power, average power, peak-to-average ratio, rise time, fall time, maximum power, minimum power and the statistical data of wideband signals (up to 30 MHz video bandwidth) with 100 M samples per second continuous sampling.
When used with the N192XA wideband power sensors, the N1911/12A P-Series power meter provides a measurement frequency range from 50 MHz to 18 GHz or 40 GHz with an internal zero and calibration capability.
LXI-C Compliance
Average triggering for average power measurement
Versatile connectivity with USB, LAN and GPIB standard
High Speed Complementary Cumulative Distribution Function (CCDF) statistical analysis
Compatible with the industry standard 8480 and E-series sensors which provide a wide dynamic range from -70 to +44 dBm, and a frequency coverage from 9 kHz to 110 GHz.
Compatibility with E932x power sensors
Difference and ratio math functions : (A-B, B-A, A/B and B/A)
2-year calibration cycle

Keysight BenchVue Software for the PC
This free software option from Keysight offers engineers and technicians involved in design and validation an easy and intuitive way to accelerate testing with no programming necessary. Multiple instrument measurement visibility and data capture improves the way users interact with their instruments and the entire bench. BenchVue provides easy viewing, capturing and exporting of data and screen shots. Visit the BenchVue Product Page for more information including instrument compatibility.