Keysight N2818A Differential Probe
Keysight N2818A Differential Probe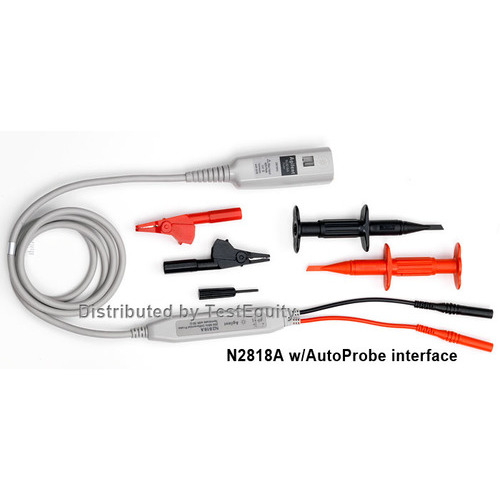 Condition:

New

Manufacturer:

Keysight

Option Parent Model:

DSOX3012T, DSOX3014T, DSOX3022T, DSOX3024T, DSOX3032T, DSOX3034T, DSOX3052T, DSOX3054T, DSOX3102T, DSOX3104T, MSOX3012T, MSOX3014T, MSOX3022T, MSOX3024T, MSOX3032T, MSOX3034T, MSOX3052T, MSOX3054T, MSOX3102T, MSOX3104T
Bandwidth:

N2818A: 200 MHz
N2819A: 800 MHz

10:1 attenuation ratio
+/- 2% of accuracy
High input resistance: 2.5Mohm (200 MHz), 100 kohm (800 MHz)
AutoProbe interface for auto configuration and probe power scopes
Compatible with 3000 X, 4000 X and 6000 X-Series
The N2818A and N2819A differential probes will provide superior general-purpose differential signal measurements for high-speed power measurements, vehicle bus measurements and digital system designs. These probes are identical to the N2792A/93A with the addition of the AutoProbe interface, and offer a 10:1 attenuation setting, allowing them to be used for a broad range of applications, with small and large components in tight places.
These differential probes have an input resistance of 1 MÙ (for N2818A) and 200 kÙ (for N2819A) and a low input capacitance of 3.5 pF (for N2818A) and 1 pF (for N2819A) to minimize circuit loading. The N2818A and N2819A probes can be powered by any USB port on a scope or computer, or by an internal battery (9V, included). The N2818A and N2819A are compatible with Keysight's AutoProbe interface where the probe power is supplied by the oscilloscope's probe interface
The N2818A 200-MHz bandwidth differential active probe with Keysight's AutoProbe interface has a high-input impedance of 1 MΩ and low-capacitive loading of just 3.5 pF, which is ideal for CAN bus measurement applications. The N2819A differential active probe provides 800-MHz bandwidth for higher-bandwidth measurement applications in automotive ECUs.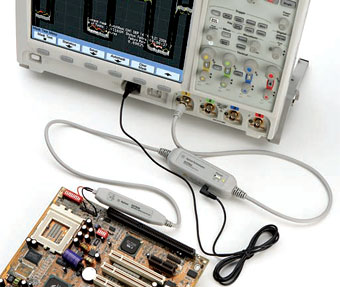 Included:
2 hook clips (black and red)
2 alligator clips (black and red)
1 screw driver for offset adjustment
Also included with N2819A:
2 pincer clips (black and red)
2 micro IC clips (black and red)
2 extension leads, 0.8 mm J-P, 5 cm (black and red)
2 extension leads, 0.8 mm J-P, 10 cm (black and red)
2 DC blocking capacitors (30 kHz
1 GHz, 100V max)
2 variable pitch spacing adapters
6 single signal pins, 0.8 mm