Keysight N4431D/020/0DC Electronic Calibration Module (ECal), DC-13.5 GHz, 4-ports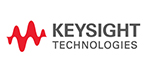 Keysight N4431D/020/0DC Electronic Calibration Module (ECal), DC-13.5 GHz, 4-ports
2004161647373785
MFG #: N4431D/020/0DC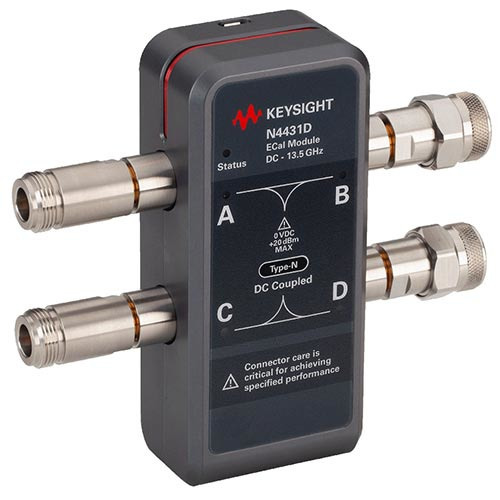 Brand:

Keysight

Condition:

New
NOTE: Photo may not be representative of the connector type for this configuration.
N4431D/020/0DC: Four Type-N 50 ohm female connectors on module, DC to 13.5 GHz
Precision 4-ports RF ECal module with high accuracy
Fast, easy, and accurate full 4-ports calibration
Direct control from Keysight vector network analyzers via USB
Keysight N4431D RF electronic calibration (ECal) module makes calibration of Keysight vector network analyzers fast, easy and accurate. The N4431D extends the calibration frequency range down to start at DC, which is beneficial for broadband device modeling or time domain and signal integrity analysis using enhanced time domain-analysis on the Keysight network analyzers.
This ECal module is an ideal solution for calibrating vector network analyzers. Performing a full 4-ports calibration takes less than half the time and number of connections versus traditional mechanical cal kits. The operator simply connects the ECal module to the vector network analyzer via USB and the firmware controls the rest, thus reducing the chance for operator error. Wear and tear on connectors are reduced as well, lowering repair costs on both the test port connectors and calibration standards.
The N4431D is available with a multiple selection of connectors like Type-N, 3.5 mm, 7-16 and 4.3-10, either female-female, male-male, or female-male connectors.
Connector Options:
Note: If option 010 or 020 is not chosen, then you must choose the connector type for each of the four ports.
| | |
| --- | --- |
| N4431D-010 | Four 3.5 mm female connectors on module |
| N4431D-020 | Four Type-N 50 ohm female connectors on module |
| N4431D-101 | Port A connector is 3.5 mm female |
| N4431D-102 | Port A connector is 3.5 mm male |
| N4431D-103 | Port A connector is type-N 50-Ohm female |
| N4431D-104 | Port A connector is type-N 50-Ohm male |
| N4431D-105 | Port A connector is 7-16 female (up to 7.5 GHz) |
| N4431D-106 | Port A connector is 7-16 male (up to 7.5 GHz) |
| N4431D-107 | Port A connector is 4.3-10 female (up to 12 GHz) |
| N4431D-108 | Port A connector is 4.3-10 male (up to 12 GHz) |
| N4431D-201 | Port B connector is 3.5 mm female |
| N4431D-202 | Port B connector is 3.5 mm male |
| N4431D-203 | Port B connector is type-N 50-Ohm female |
| N4431D-204 | Port B connector is type-N 50-Ohm male |
| N4431D-205 | Port B connector is 7-16 female (up to 7.5 GHz) |
| N4431D-206 | Port B connector is 7-16 male (up to 7.5 GHz) |
| N4431D-207 | Port B connector is 4.3-10 female (up to 12 GHz) |
| N4431D-208 | Port B connector is 4.3-10 male (up to 12 GHz) |
| N4431D-301 | Port C connector is 3.5 mm female |
| N4431D-302 | Port C connector is 3.5 mm male |
| N4431D-303 | Port C connector is type-N 50-Ohm female |
| N4431D-304 | Port C connector is type-N 50-Ohm male |
| N4431D-305 | Port C connector is 7-16 female (up to 7.5 GHz) |
| N4431D-306 | Port C connector is 7-16 male (up to 7.5 GHz) |
| N4431D-307 | Port C connector is 4.3-10 female (up to 12 GHz) |
| N4431D-308 | Port C connector is 4.3-10 male (up to 12 GHz) |
| N4431D-401 | Port D connector is 3.5 mm female |
| N4431D-402 | Port D connector is 3.5 mm male |
| N4431D-403 | Port D connector is type-N 50-Ohm female |
| N4431D-404 | Port D connector is type-N 50-Ohm male |
| N4431D-405 | Port D connector is 7-16 female (up to 7.5 GHz) |
| N4431D-406 | Port D connector is 7-16 male (up to 7.5 GHz) |
| N4431D-407 | Port D connector is 4.3-10 female (up to 12 GHz) |
| N4431D-408 | Port D connector is 4.3-10 male (up to 12 GHz) |