Keysight N6141A-2TP EMI Measurement Application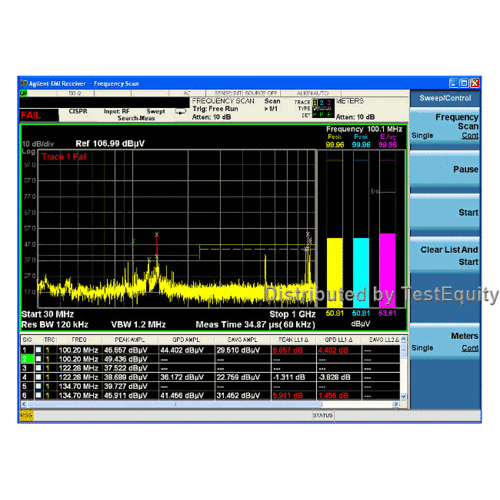 Brand:

Keysight

Condition:

Rental

Family Models:

W6141A
Discontinued
Discontinued
Signal Analysis
Supports the latest CISPR 16-1-1 or MIL-STD detectors and bandwidth
Perform radiated and conducted emissions measurements
Compare measured emissions to regulatory limits
Runs inside CXA signal analyzers:
Measurements
Built-in commercial and MIL-STD compliant bandwidths, detectors and band presets
Continuously monitor signals with bar meters to detect maximum amplitude
Easily identify out-of-limit signals
Global feature moves signals between signal analyzer and EMC app. modes
Performance (Hardware Dependent)
See device emissions typically hidden in the noise
Display signals in either log or linear format
Excellent amplitude accuracy
Use the signal analyzer's high sensitivity to reduce measurement margins
Improved Sensitivity, Accuracy and Reduced Test Margins Across the X-Series Signal Analyzers
The W6141A EMI measurement application is derived from a common library of more than 25 measurement applications in the Keysight X-Series, an evolutionary approach to signal analysis that spans instrumentation, measurements and software. This application transforms the X-Series signal analyzers into a pre-compliance solution, providing better sensitivity, accuracy and a reduction of test margins.
EMI Measurements
Excellent sensitivity of the CXA signal analyzer translates into more accurate emissions measurements
Reduce emissions measurement margins with greater measurement accuracy
Expand the view of lower frequency conducted emissions signals using log display
Identify suspect signals in spectrum analyzer mode and analyze and store the signal in EMI receiver mode
Additional Features
Built-in signal list manipulation capability
SCPI remote user interface
Free trial license, try it for 14 days. Obtain it here.