Keysight N6702A Power System Mainframe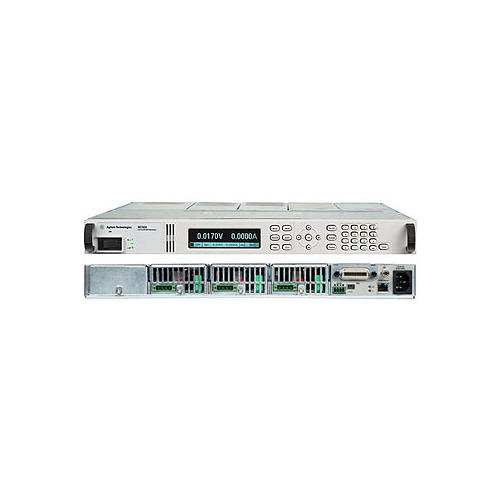 Brand:

Keysight

Condition:

Rental
N6702A Power System Mainframe holds 1 to 4 modules, 1200 W total
Choose from more than 20 different dc power modules
Programmable voltage and current
Fast command processing time
Outputs can be connected in parallel or series
Programmable overvoltage & overcurrent protection
10 store-recall states, output sequencing
Oscilloscope-like digitizer & ARB output (with N6750/60 Power Modules)
Streamline tasks with front panel control and advanced programmable including automated sequencing of up to 512 output settings
Synchronize to other events in your ATE system with advanced hardware and software triggering
GPIB (SCPI), USB 2.0, LAN
LXI Class C Compliant
Universal AC input, power factor correction
Small size - Only 1.75 inches (1U) of rack space
The Keysight N6700 Low-Profile Modular Power System (MPS) is a 1U (rack unit) high, multiple output programmable DC power supply system that enables test system integrators to optimize performance, power and price to match test needs. The Keysight N6700 MPS gives test system designers the flexibility to mix and match from 20 different DC power modules to create a 1- to 4-channel DC power system optimized to meet specific test requirements. Test system engineers can invest in high-performance outputs where speed and accuracy are needed, or purchase basic performance outputs for simple DC power requirements.
Connectivity
The N6700 MPS comes standard with GPIB, USB 2.0, and 10/100 Base-T Ethernet LAN interfaces. While GPIB is best suited for use with existing systems, Keysight offers USB and LAN to allow you to take advantage of the availability, speed, and ease-of-use of common computer industry standard interfaces. The N6700 is fully compliant with the LXI Class C specification. The N6700 can be controlled via a standard web browser. The N6700 contains a web server that provides web pages for monitor, control, and setup of the MPS.
Front Panel
In addition to full control over its three standard interfaces, the N6700 has a full featured front panel to permit easy manual operation for test prototyping, debugging, and troubleshooting when used in an ATE system. You can have confidence that the N6700 is working properly because you can view the settings and actual output values on all four outputs at the same time.