Keysight N6705C DC Power Analyzer Mainframe
Product Features

Modular, 600W, Four Slots
100% form, fit, function and price-equivalent to the N6705B. Now meets RoHS Compliance.
Voltmeter accuracy: Up to 0.025% + 50 µV, up to 18 bits
Ammeter accuracy: Up to 0.025% + 8 nA, up to 18 bits
Arbitrary waveform generator function: Bandwidth up to 100 kHz, output power up to 500 W
Scope function: Digitizes voltage and current at up to 200 kHz, 512 kpts, up to 18 bits
Data logger function: Measurement interval from 20 µs to 60 s, max of 500 M readings/datalog
4 GB of non-volatile data storage for data log, scope traces, instrument settings
Ideal for R&D testing and Design Validation
Sources and measures DC voltage and current into your DUT
Combines 1 to 4 DC Power Supplies, DMM, Oscilloscope, Arb waveform generator, and Datalogger in 1 integrated instrument
4-slot mainframe holds up to 600W of total power and up to 4 modules, with 21 DC power modules to choose from (N6700 Series modules ordered separately)
Saves time – no programming required
Eliminates need to gather and configure multiple instruments
Flexible, modular system: Can mix and match DC source power levels and measurement performance levels to optimize investment
GPIB, USB 2.0 or 10/100 base-T ethernet LAN standard
Fully compliant to LXI Class C specification
Three-year warranty
Keysight has updated the N6705B DC power analyzer to meet RoHS compliance, and is 100% form, fit, functions and price-equivalent to the N6705B.
Save Time with a Single-box Solution
The Keysight N6705C DC Power Analyzer represents an entirely new instrument category for R&D engineers. It provides unrivaled productivity gains when sourcing and measuring DC voltage and current into a DUT. Using the Keysight N6705C DC Power Analyzer, R&D engineers can gain insights into the DUT's power consumption in minutes without writing a single line of code. It provides an easy-to-use interface, with all sourcing and measuring functions available from the front panel.
Modular System Based on DC Power Supply Outputs
The Keysight N6705C DC power analyzer is a modular system that can be tailored to meet specific test needs. At the heart of the DC power analyzer is the DC power module. This mainframe has four slots to accept one to four DC power modules, which are fully-isolated and floating from ground, taking one slot — except for the N6750C high-performance autoranging and N6760 precision power modules that are ≥300 W — which occupy two slots. This modular design gives you the flexibility to mix and match over thirty different DC power modules to create a solution optimized to meet specific test requirements.
Voltmeter/Ammeter: Meter View
Each DC power module in the Keysight N6705C DC power analyzer has a fully-integrated voltmeter and ammeter to measure the actual voltage and current being sourced out of the DC output into the DUT. Because this voltmeter/ammeter function is built in, it is easy to make measurements without additional wires or the added complexity of current sense resistors or current shunts.
Oscilloscope: Scope View
Each DC power module in the Keysight N6705C DC power analyzer has a fully-integrated digitizer to capture the actual voltage-versus-time and current-versus-time being sourced from the DC output into the DUT. The digitized data appears on the large color display just like an oscilloscope.
Data Logger View
Using the measurement capability built into each DC power module, the N6705C can continuously log data to the large color display and to a file. And, data can be simultaneously logged on all four DC outputs.
Arbitrary Waveform Generator
Each DC power output on the Keysight N6705C DC power analyzer can be modulated by the module's built-in arbitrary waveform generator. This permits the output to act as a DC bias transient generator or power arbitrary waveform generator.
Additional features: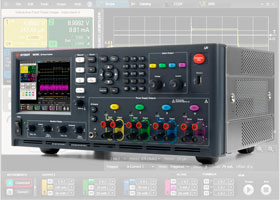 N6705C DC power analyzer with 14585A software
Output sequencing
Series and parallel operation
Convenient front panel connections
Programmable voltage slew
4-wire sensing for improved measurement accuracy
DC power modules offer low noise outputs and fast voltage changes
Real-time clock
Front panel USB
Internal memory
DUT protection features and Emergency Stop
Output disconnect and polarity reversal relays
Control from any browser
Wide variety of DC Power Modules to meet testing requirements (not included w/ N6705C)


Keysight BenchVue Software for the PC
This software option from Keysight offers engineers and technicians involved in design and validation an easy and intuitive way to accelerate testing with no programming necessary. Multiple instrument measurement visibility and data capture improves the way users interact with their instruments and the entire bench. BenchVue provides easy viewing, capturing and exporting of data and screen shots. Visit the BenchVue Product Page for more information including instrument compatibility.