Keysight N7555A Electronic Calibration Module
Keysight N7555A Electronic Calibration Module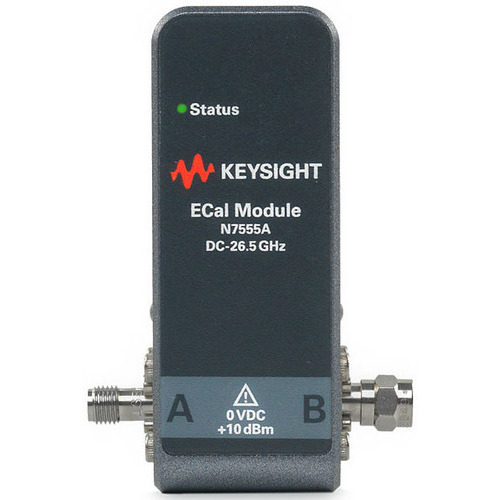 Condition:

New

Family Models:

N7555A 3MF

Manufacturer:

Keysight
Supported on FieldFox N9923, N991x, N992x, N995x
Frequency coverage: from DC to 26.5 GHz
Supports 3.5 mm connectors
Smaller, lighter 2-port ECal module
Zero wait time for faster calibration
Convenience of ECal with the performance of an economy mechanical kit
Three-year warranty
Electronic calibration (ECal) is a precision, single-connection calibration technique vector network analyzers
ECal replaces the traditional calibration technique, which uses mechanical standards that require numerous connections to the test ports for a single calibration. With N755xA Series ECal modules, a full one- to two-port calibration can be accomplished with a single connection to the ECal module, resulting in faster and more repeatable calibrations.
N7555A 2-port ECal to 26.5 MHz
The N7555A value-line electronic calibration (ECal) module makes calibration of vector network analyzers fast, easy and accurate. Cut your calibration down to half the time it normally takes using a traditional mechanical cal kit. Simply connect it to your instrument and the firmware does the rest.
The N7555A Calibration Module support Keysight's FieldFox Handheld Analyzers. This 2-port ECal module supports 3.5 mm connectors. And, because it's a value-line product you may find it to be cost-effective to replace the module than to have it recertified.
N755xA Electronic Calibration Modules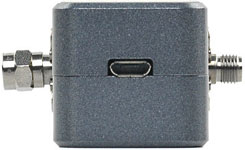 N7555A Bottom (USB) View
| ECal Module | Frequency | Connector(s) |
| --- | --- | --- |
| N7550A | DC-4 GHz | Type N and 3.5 mm |
| N7551A | DC-6.5 GHz | Type N and 3.5 mm |
| N7552A | DC-9 GHz | Type N and 3.5 mm |
| N7553A | DC-14 GHz | Type N and 3.5 mm |
| N7554A | DC-18 GHz | Type N and 3.5 mm |
| N7555A | DC-26.5 GHz | 3.5 mm* |
* N7555A Electronic Calibration Module does not support Type N connectors.
The firmware installed on the instrument is used to control the calibration module, making it a fully integrated solution. The calibration code on the instrument communicates via a USB 2.0 micro-interface and simplifies the calibration to a single connection for a full two-port calibrated measurement.