Keysight N9000A/526 CXA Signal Analyzer, 7.5 GHz
Keysight N9000A/526 CXA Signal Analyzer, 7.5 GHz
17591.69
MFG #: N9000A/526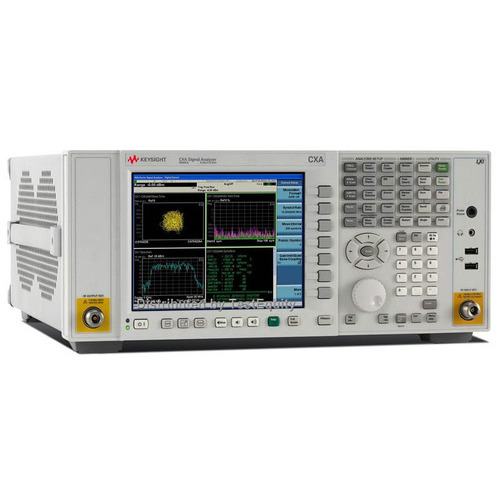 Manufacturer:

Keysight

Condition:

Used

Family Models:

N9000A 526

9 kHz to 3.0, 7.5, 13.6 or 26.5 GHz
Full band preamplifier up to 26.5 GHz
±0.5 dB absolute amplitude accuracy
Up to +17 dBm third order intercept (TOI)
-147 dBm displayed average noise level (DANL)
-163 dBm at 1 GHz, -147 dBm at 26.5 GHz displayed average noise level (DANL) with preamplifier
-73 dBc W-CDMA ACLR dynamic range (with noise correction on)
Advanced analysis of up to 70 signal formats, software runs inside CXA
LXI class C, SCPI and IVI-COM. USB 2.0, 100Base-T LAN, GPIB
Programming language compatibility with ESA and other X-Series
Basic EMI precompliance measurement capability available
Common X-Series user interface / Open Windows® 7 operating system
Standards-based PowerSuite: channel power, OBW, ACP, CCDF, SEM
Expect more from a cost-effective signal analyzer – and get more done with the CXA
With a flexible, dependable signal analyzer, you're ready for your next measurement challenge. The Keysight CXA signal analyzer is a versatile, low-cost tool for essential signal characterization. It helps you accelerate product testing and development on multiple levels: cost reduction, throughput, design enhancement and beyond. Get essential capability along with X-Series expandability in the CXA - and expect more.
Making conducted EMI pre-compliance measurements
See how the low-cost N9000A CXA signal analyzer with the W6141A EMI measurement application is configured with other components to create a lowest-cost EMI pre-compliance test solution.

Keysight BenchVue Software for the PC
This software option from Keysight offers engineers and technicians involved in design and validation an easy and intuitive way to accelerate testing with no programming necessary. Multiple instrument measurement visibility and data capture improves the way users interact with their instruments and the entire bench. BenchVue provides easy viewing, capturing and exporting of data and screen shots. Visit the BenchVue Product Page for more information including instrument compatibility.