Keysight N9310A RF Signal Generator
Keysight N9310A RF Signal Generator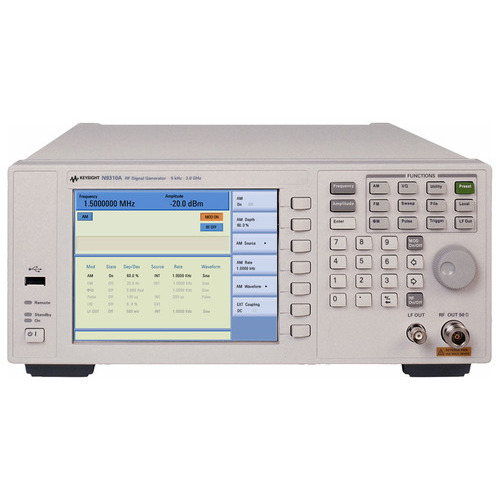 Manufacturer:

Keysight

Condition:

New

Family Models:

N9310A 0B0

Meta Keywords:

Agilent, TestEquity, N9310A RF, Signal, Generator, 3, ghz, rental, lease, modulation, modulated, iq, signals, analog

9 kHz to 3 GHz, with 0.1 Hz resolution
6.5" TFT color screen
SSB: <-95 dBc/Hz
Accurate CW, analog modulated (AM, FM, ΦM) and pulse modulated signals
Wide bandwidth (40 MHz) IQ modulator enables digital modulated signals such as GSM, cdma, OFDM from your own custom IQ signals (optional)
-127dBm to +13 dBm (settable to +20 dBm)
Intuitive GUI offering 11 languages
Easy PC programming with SCPI command or with Virtual Panel software
USB connectivity and flash memory support
Three-year warranty
The Keysight N9310A RF Signal Generator is ideal for manufacturing test of modern consumer products like cordless phones, digital radios, GPS modules, RFIDs and wireless LAN devices. It is the first in this new entry-level of RF basic instruments. It comes with all the capability and reliability you need — at a price you always wanted.
With its built-in analog modulation capabilities, the N9310A can generate modulated AM, FM, ΦM and pulse signal easily. With the optional analog IQ input capability, it can generate complex IQ modulated signals such as GSM, cdma and OFDM signals from custom IQ inputs.
The Keysight N9310A is easy to operate from the front panel or from a PC connected to the USB port. Virtual panel software utilities replicate all controls and setup parameters. Additionally, this software provides data analysis productivity tools for data logging and archiving of important test results, including graphics.

Keysight BenchVue Software: Click. Capture. Done.
Accelerates your testing by providing intuitive, multiple instrument measurement visibility and data capture with no programming. You'll derive answers faster by easily viewing, capturing and exporting measurement data and screen shots. The integrated library feature includes access to manuals, FAQs, videos, and more — enabling you to expand your measurement knowledge and reduce test setup time.