Keysight N9330B/0B0 Handheld Cable and Antenna Tester
Keysight N9330B/0B0 Handheld Cable and Antenna Tester
16932.1
MFG #: N9330B/0B0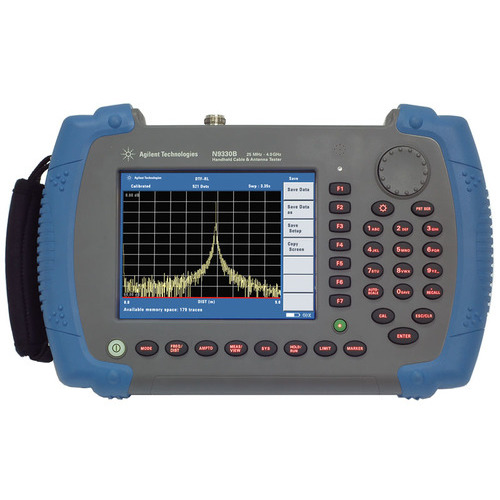 Manufacturer:

Keysight

Condition:

New

Family Models:

N9330B

Discontinued:

Yes
DISCONTINUED
Frequency range: 25 MHz to 4 GHz
Return loss vs. frequency
VSWR vs. frequency
Cable loss test
Distance to Fault (DTF): Return loss vs. distance, VSWR vs. distance
Power Measurements with USB Power sensors (option PWM)
Sweep time: 3.0 ms/data point (full span, 521 trace point, CW sweep, typically)
Battery: Lithium-ion, 4 hours operating time
USB connectivity for memory stick and PC connection
6.5" TFT color LCD for indoor and outdoor use
The Keysight N9330B Handheld Cable and Antenna Tester is ideal for measuring SWR, return loss, cable loss and locating faulty point in cable and antenna systems. It provides 25 MHz to 4 GHz frequency range, covering the telecom frequency range of GSM, CDMA, PHS, Bluetooth and more. It is designed for wireless service providers, network operators and their contractors world-wide, who install, deploy, maintain and troubleshoot wirless communication systems.
The Keysight N9330B supports the 5 basic functions for a handheld cable and antenna tester: VSWR vs Frequency, Return Loss vs Frequency, Cable Loss vs Frequency, VSWR vs Distance-to-Fault and Return Loss vs Distance-to-Fault.
N9330B has an optional electronic calibrator. The smart electronic calibrator can quickly perform Open-Short-Load calibration with one connection.
The 4-hour battery life ensures you fulfill half-day field test with one full charge. The battery is field swappable. With a spare battery or car adapter, operation can easily last a full day.
The N9330B supports modern USB connectivity for USB memory stick or PC connection. With the modern connectivity, data transfer is convenient and fast.
The 6.5" TFT screen gives bright can clear view for both indoor and outdoor use. N9340B is also installed with back-lit keys which are ideal for night use.