Keysight N9912A Antenna & Cable Analyzer, 4 GHz
Keysight N9912A Antenna & Cable Analyzer, 4 GHz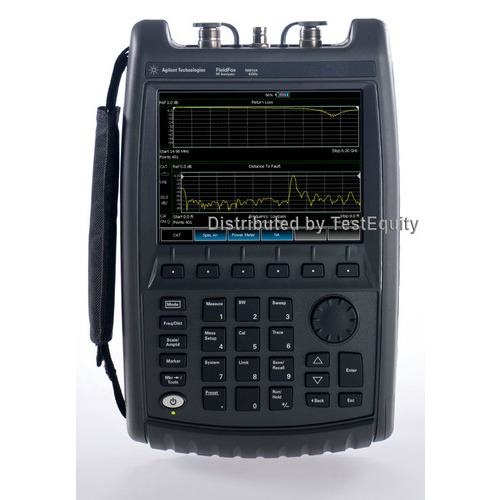 Product Features
Cable and Antenna Analyzer (N9912A base model)
•
Frequency range: 2 MHz to 4 GHz / 6 GHz
•
Directivity: > 42 dB

Network Analyzer Capability (Option 303)
•
2 MHz to 4 GHz / 6 GHz
•
S11 magnitude and phase, S21 magnitude

Spectrum Analyzer Capability (Option 230/231)
•
Frequency range: 100 kHz to 4 GHz / 6 GHz
•
DANL: -148 dBm / Phase noise: -88 dBc
•
TOI: +18 dBm
•
Sweep speed: 1 second / full span (6 GHz)

Power Meter Capability (Option 302)
•
9 kHz to 24 GHz with U2000 USB Sensors
10 kHz to 33 MHz with U2040 X-Series Wide Dynamic Range USB Power Sensors

Vector Voltmeter (Opt. 308)
•
2 MHz to 4 / 6 GHz
•
Compare phase and electrical length
Keysight N9912A FieldFox is the world's most integrated handheld instrument for wireless network installation and maintenance (I&M). FieldFox improves RF field engineers' and technicians' productivity to perform base station I&M more efficiently and accurately.
Key measurements include cable and antenna test from 2 MHz to 4/6 GHz, spectrum analysis from 100 kHz to 4/6 GHz, vector network analysis, and true average power measurements. The Keysight FieldFox handheld RF analyzer is the first and only RF tool for base station I&M that is calibration-ready at the test port. It combines multiple RF measurement capabilities in one rugged, compact and lightweight package and can tackle complex wireless networks with test times that are more than 50 percent faster than traditional testers.
Keysight's FieldFox is the only handheld analyzer that can make return-loss and distance-to-fault measurements at the same time. This allows users to quickly check system performance and identify potentially degraded system components simultaneously, doubling the efficiency compared to traditional testers.
Key features of Keysight's FieldFox handheld RF analyzer, include:
Integrated QuickCal eliminates the need to carry a calibration kit into the field, simplifying cable and antenna test and providing worry-free accuracy and repeatability with every measurement.
Immediate calibration with FieldFox's CalReady makes the unit calibration ready at the cable and antenna test port immediately following power-up or preset.
A task-driven user interface derived directly from standard field test procedures guides performance tasks naturally and easily.
Unmatched sweep speed reduces time-to-problem resolution with test times more than 50 percent faster than traditional RF handheld instruments.
Fast fault location with 1001-point resolution and 96-dB dynamic range in the spectrum analysis mode.
Versatile field usability with its lightweight (6.2 lbs.), transflective display, backlit keys, simple data transfer and modern connectivity. The water-resistant chassis withstands wide temperature ranges and humid environments, meeting tough environmental standards (MIL-PRF-28800F).
Measurements
Cable and antenna analyzer for return loss, one-port cable loss, distance to fault, line sweeping, and VSWR measurements
Handheld network analyzer (S11, S21, phase, and Smith Chart)
Handheld spectrum analyzer, optional preamplifier
Calibration
Integrated QuickCal allows you to calibrate FieldFox without a calibration kit, providing worry-free accuracy and repeatability
Immediate calibration with FieldFox's CalReady makes the unit calibration ready at the test port immediately following power-up
Broadband calibration with automatic interpolation to eliminate re-calibration of FieldFox when the test frequency or the number of points changes
Mechanical open, short, load calibration support
FieldFox RF Analyzer base functions: One port cable and antenna analyzer, broadband calibration, CalReady, standard mechanical cal kit support (cal kit optional). Measurements include: return loss, distance to fault (DTF), one port cable loss and VSWR.
Standard accessories included N9912A: AC/DC adapter; battery; soft carrying case; Quick Reference Guide; CD ROM with FieldFox Data Link software and full manual.
Visit the Keysight RF and microwave combination analyzers page for additional information. >>

Keysight BenchVue Software for the PC
This free software option from Keysight offers engineers and technicians involved in design and validation an easy and intuitive way to accelerate testing with no programming necessary. Multiple instrument measurement visibility and data capture improves the way users interact with their instruments and the entire bench. BenchVue provides easy viewing, capturing and exporting of data and screen shots. Visit the BenchVue Product Page for more information including instrument compatibility.