Keysight N9923A/104 Vector Network Analyzer, 4 GHz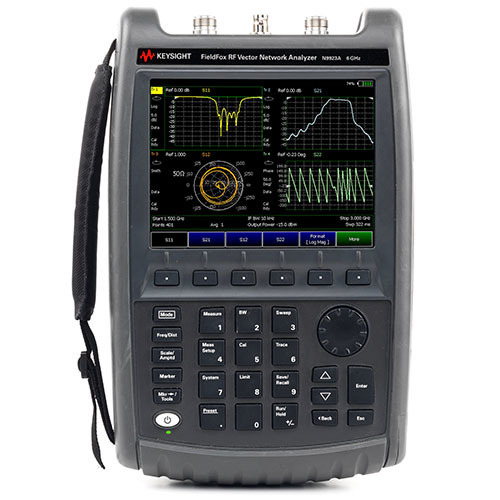 Brand:

Keysight

Condition:

New

Frequency:

4 GHz
N9923A-104: 4 GHz max frequency
Carry the world's most accurate handheld RF T/R VNA analyzer
Expand capabilities with optional 2-port VNA, time-domain, vector voltmeter, cable and antenna analyzer and more
Save time by simultaneously measuring all four S-parameters (S11, S21, S12, S22) with a single connection
Perform accurate testing with QuickCal, full 2-port unknown thru Cal, TRL
Easily measure average and pulse power with a USB power sensor
Lightest handheld VNA at only 6.2 lb. (2.8 kg)
N9923A is a portable battery-operated RF vector network analyzer; N9923A includes a full 2-port network analyzer, cable and antenna tester, distance-to-fault tester, power meter, and 1- and 2- channel vector voltmeter.
The industry leader in benchtop vector network analyzers (VNA) now provides the world's most accurate handheld VNA, the FieldFox RF Vector Network Analyzer (N9923A). It provides the best measurement stability in the industry, 0.01 dB/deg C and offers the world's first integrated QuickCal calibration capability available in a handheld VNA. QuickCal enables consistent measurement results and confidence in the data while eliminating the need to carry a calibration kit (cal kit) into the field.
N9923A FieldFox RF VNA expands Keysight's handheld FieldFox portfolio and is designed for field engineers in aerospace, defense and network equipment manufacturing, who characterize RF components for mission-critical communication systems. The N9923A, a full 2-port network analyzer, allows operators to measure and display all four S-parameters simultaneously in the field. The FieldFox RF VNA is for engineers who require more network analysis functionality than the flagship Keysight N9912A FieldFox RF analyzer, the world's most integrated handheld instrument for wireless installation and maintenance. All FieldFox products set new standards for ease-of-use, ruggedness, and portability (< 6.2 lbs).
Includes: AC/DC adapter soft carrying case, battery, and Quick Reference Guide.