Keysight N9927A FieldFox Handheld Microwave Vector Network Analyzer
Keysight N9927A FieldFox Handheld Microwave Vector Network Analyzer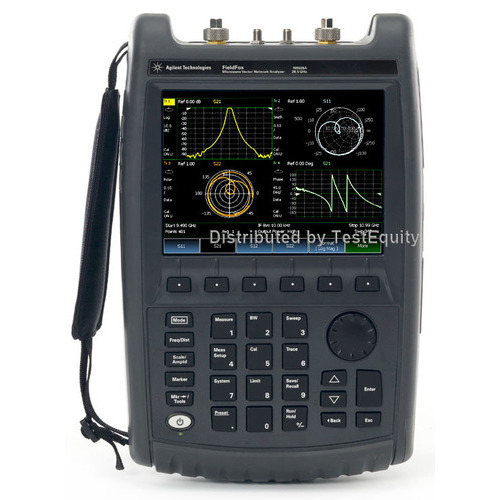 Product Features
Vector network analyzer (VNA)
30 kHz to 18 GHz
Directivity > 42 dB, dynamic range 100 dB to 9 GHz, 94 dB to 18 GHz
Flat output power (± 1 dB) across whole frequency range, adjustable in 1 dB steps
Transmission/reflection (S21, S11), or full two-port (S21, S11, S12, S22)
Cable and Antenna Analyzer
30 kHz to 18 GHz
Distance-to-fault, return loss, cable loss
Vector Voltmeter (VVM), Power Sensor, and built-in measurements
VVM: 30 kHz to 18 GHz, compare phase and electrical length
Power measurements with USB sensor: 9 kHz to 24 GHz (sensor dependent)
Built-in power meter: 5 kHz to 18 GHz
Delivers Keysight-quality Measurements — Wherever You Are
The N9927A FieldFox 18 GHz Vector Network Analyzer is equipped to handle routine maintenance, in-depth troubleshooting and anything in between. This versatile instrument's applications include: satellite communications, microwave backhaul, Military communications, radar systems, and active and passive device testing.
Get Precise S-parameters
The VNA's base function is a transmission/reflection analyzer (S11, S21), and it can be configured to include full 2-port S-parameters. FieldFox can be ordered with additional capabilities: cable and antenna analyzer, built-in power meter, vector voltmeter, variable DC source, and built-in GPS receiver — with results from trusted HP/Agilent benchtop vector network analyzers.
Rugged Construction
Dust-free design with no fans, no vents extends instrument reliability in harsh environments, water-resistant, MIL-PRF-28800F Class 2 compliant, and MIL-STD-810G, Method 511.5 Procedure I requirements for operation in explosive environments (type tested).

Keysight BenchVue Software for the PC
This free software option from Keysight offers engineers and technicians involved in design and validation an easy and intuitive way to accelerate testing with no programming necessary. Multiple instrument measurement visibility and data capture improves the way users interact with their instruments and the entire bench. BenchVue provides easy viewing, capturing and exporting of data and screen shots. Visit the BenchVue Product Page for more information including instrument compatibility.
Includes: AC/DC Adapter, 1 battery, soft carrying case, LAN cable, quick reference guide, user's guide, and three-year warranty.
Visit the Keysight Microwave Vector Network Analyzers page for additional information. >>