Keysight N9951A FieldFox RF Combination Analyzer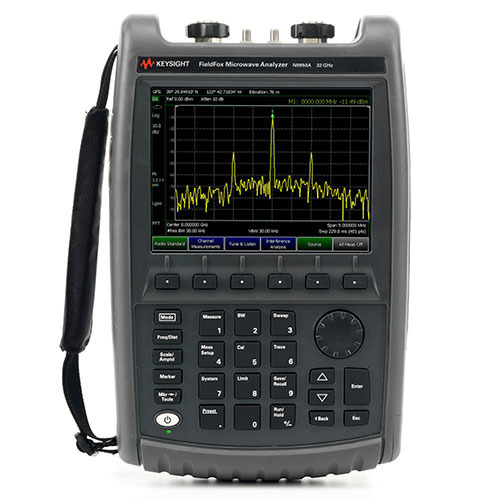 Brand:

Keysight

Condition:

New

Frequency:

44 GHz
Cable and Antenna Analyzer (CAT), Vector Network Analyzer (VNA, optional)
300 kHz to 44 GHz
Dynamic range: 70 - 100 dB
CAT: return loss/distance-to-fault
VNA (optional): Full 2-port vector network analyzer
Spectrum Analyzer (optional)
5 kHz to 44 GHz
provides best amplitude accuracy of 0.5 dB, with no warm up required
Spur-free dynamic range: > 104 dB
Key features (option dependent)
Built-in power meter
Independent signal generator
Vector voltmeter
Interference analyzer
Pulse measurements
Built-in variable DC voltage source

Frequency counter measurements
TDR cable measurements
Built-in GPS receiver
ECal support
Extended range transmission analysis
Three-year warranty
FieldFox 30-second video introducing real time spectrum analysis (RTSA)
Delivers Benchtop Accuracy and MIL-Spec Durability to Field Applications
The N9951A 44 GHz FieldFox microwave analyzer base function is a cable and antenna analyzer and can be configured to include a spectrum and full 2-port network analyzer. To save space in a field kit, built-in capabilities can be added to provide up to 10 instruments in 1. The N9951A can be ordered with additional capabilities: power meter, independent signal generator, vector voltmeter, interference analyzer, variable DC source, and built-in GPS receiver.
Fifty to sixty percent of microwave-link equipment issues are related to cables, antennas and connectors. Degraded feeder lines cause poor coverage, link failures, and reduced sensitivity in the receive path. To maintain the quality of a microwave link, it is critical to keep cable and antenna systems in good working condition. FieldFox Cable and Antenna Analyzers are uniquely qualified to provide all the necessary measurements to troubleshoot and maintain these systems.
Product highlights:
Meets MIL-PRF-28800F Class 2, no vents or fans, wide operating temp of ?10 to +55°C (14 to 131°F)
Meets IEC/EN 60529 IP53 requirements
Meets Procedure 1 requirements for operation in explosive environments. MIL-810G, Method 511.5
Portable: compact, light-weight 3.2 kg/7.1 lb package
VNA CalReady allows quick and accurate microwave device measurements in the field
Built-in microwave independent signal source with flattened power output
Full-band tracking generator
included: AC/DC adapter, one (1) battery, soft carrying case, LAN cable, quick reference guide and user's guide.