Keysight N9960A FieldFox Handheld Microwave Spectrum Analyzer
Keysight N9960A FieldFox Handheld Microwave Spectrum Analyzer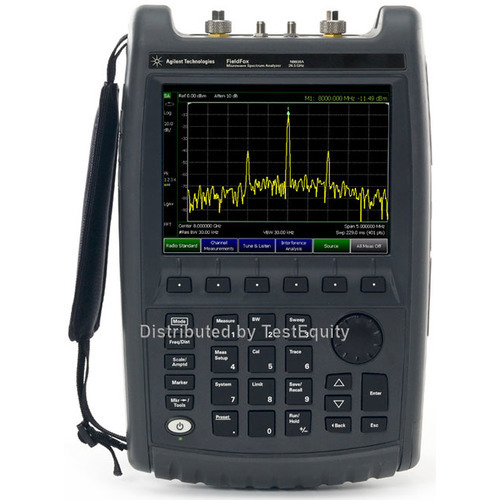 Product Features
Spectrum Analyzer
5 kHz to 32 GHz
± 0.5 dB amplitude accuracy, full band, temp. range of -10 to +55°C (14 to 131°F)
Spur-free dynamic range > 104 dB
Tracking Generator
300 kHz to 32 GHz
VSWR and reflection measurements
Measurements
Channel power, occupied bandwidth and adjacent channel power ratio
Meets MIL-PRF-28800F Class 2
Full-band tracking generator
Independent signal source
Built-in power meter: 5 kHz to 32 GHz
Interference analyzer
Built-in GPS receiver
Pulse measurements
Built-in variable DC voltage source
Three-year warranty
FieldFox 30-second video introducing real time spectrum analysis (RTSA)
Carry Precision With You To Ka Band & Beyond
The N9960A FieldFox is a rugged, dependable handheld analyzer designed to deliver precise, lab-grade measurements. Offering more built-in capabilities than similar analyzers, you can replace the hassle of carrying three or four instruments with a single FieldFox.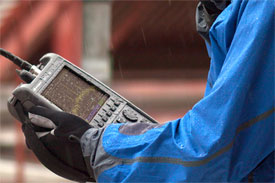 FieldFox models feature a water-resistant chassis, keypad, and case type tested to IP53 and MIL-STD-810G explosive atmosphere.
Instantly and Precisely Characterize Transmitter Power
The N9960A FieldFox 32 GHz microwave spectrum analyzer provides industry-leading amplitude accuracy of ±0.5 dB at power-up, with no warm-up required. It can can detect more signals in the band of interest with phase noise of -111 dBc/Hz at 10 kHz offset, and measure low-level signals in the presence of high-power transmitters with spur-free dynamic range of 105 dB.
Get Precise Measurements that Agree with Benchtop Results
The spectrum analyzer's base function is spectrum analysis, and can be configured to include; full-band tracking generator and preamplifier, interference analyzer, VSWR and reflection measurements, built-in power meter, USB power sensor support, GPS receiver and DC bias voltage source.
Rugged Construction
Dust-free design with no fans, no vents extends instrument reliability in harsh environments, water-resistant, MIL-PRF-28800F Class 2 compliant, and MIL-STD-810G, Method 511.5 Procedure I requirements for operation in explosive environments (type tested). Well-suited for: satellite communications, microwave backhaul, Military communications, radar systems, and active and passive device testing.
Noise Figure Analyzer Mode (Opt. 356)
Expanding measurement capabilities include noise figure analyzer mode — a key performance parameter in many RF systems. FieldFox can characterize the noise figure of devices including low noise amplifiers (LNAs), frequency converters and receivers using the industry proven Y-factor technique. By combining noise figure measurements with full 2-port vector network analysis, spectrum analysis and power sensor integration, FieldFox can now provide complete characterization of amplifiers and converters in the field or repair depots.

Keysight BenchVue Software for the PC
This free software option from Keysight offers engineers and technicians involved in design and validation an easy and intuitive way to accelerate testing with no programming necessary. Multiple instrument measurement visibility and data capture improves the way users interact with their instruments and the entire bench. BenchVue provides easy viewing, capturing and exporting of data and screen shots. Visit the BenchVue Product Page for more information including instrument compatibility.
Included: AC/DC adapter, one (1) battery, soft carrying case, LAN cable, quick reference guide and user's guide.
Visit the Keysight Microwave Spectrum Network Analyzers page for additional information. >>
| Manufacturer | Model | Description |
| --- | --- | --- |
| Keysight | Opt. 355 | Analog Demodulation Verifies AM/FM transmitter performance and troubleshoots potential hardware issues with transmitters such as 2-way and airport traffic control radios. |
| Keysight | Opt. 312 | Channel Scanner Can scan 20 independent channels at any given frequencies, with GPS information, the data can be exported to Google Maps to evaluate signal coverage, and identify potential interference issues. |
| Keysight | Opt. 030 | Remote Control Capability Remotely-control FieldFox Analyzer via an iOS device such as an iPad or iPhone. |
| Keysight | Opt. 220 (N9960A-220) | Full Band Tracking Generator |
| Keysight | Opt. 310 | Built-in Power Meter Facilitates very accurate channel power measurements. |
| Keysight | Opt. 236 | Interference Analyzer and Spectrogram |
| Keysight | Opt. 302 | USB Power Sensor Support Allows for absolute power measurements |
| Keysight | Opt. 307 | GPS Receiver Provides geo-location data |
| Keysight | Opt. 309 | DC Bias Variable-Voltage Source |
| Keysight | Opt. 235 (N9960A-235) | Pre-amplifier |
| Keysight | Opt. 320 | Reflection Measurements Return loss, VSWR and scalar measurements. Requires Opt. 220: Full-band tracking generator. |
| Keysight | Opt. 330 | Pulse Mode Support of U202x peak power sensor to characterize pulse profiling, like rise, fall and width, etc. |
| Keysight | Opt. 208 | External USB Power Measurement vs Frequency Allows the use the external USB power sensor and internal signal source to make frequency offset measurements that evaluate frequency converter performance like loss, gain and bandwidth. Requires Option 302. |
| Keysight | Opt. 209 | Extended Range Transmission Analysis (ERTA) Allows measurement of very long microwave cable losses which cannot be done by traditional cable and antenna testers or VNAs. Option 209 is a system based on two FieldFox units. |
| Keysight | Opt. 238 | Spectrum Analyzer Time Gating |
| Keysight | Opt. 350 | Real Time Spectrum Analyzer RTSA Software Option |
| Keysight | Opt. 351 | I/Q Analyzer Mode Provides frequency and time domain measurements and customizable multi-domain display views. |
| Keysight | Opt. 356 | Noise Figure Measurement Uses Y-factor technique to accurately verify and characterize amplifier and frequency converter noise figure. Requires spectrum analyzer mode (Option 233 on combination models), preamplifier (Option 235) and DC bias variable voltage source (Option 309) as well as CPU2 processor. An external noise source like Keysight 346A/B/C/K40/K01 is also required. Also recommended to improve accuracy is an external preamplifier (U7227A/C/F or U7228A/C/F). |
| Keysight | Opt. 370 | LTE FDD Over-the-Air Mode LTE FDD OTA: Measures and decodes cell ID, RSRP, RSRQ, RSSI, PSS, SSS, SINR and frequency error. Requires spectrum analyzer mode (Option 233 on combo models), GPS receiver (Option 307) and CPU2 processor. Also recommended but not required is preamplifier (Option 235) to improve receiver sensitivity. |
| Keysight | Opt. 377 | 5GTF Over-the-Air Mode 5GTF OTA: Used by Verizon Wireless, can measure PSS, SSS and decode cell ID. Requires spectrum analyzer mode (Option 233 on combination models), GPS receiver (Option 307) as well as the CPU2 processor. Also recommended, but not required, is preamplifier (Option 235) to improve receiver sensitivity. |