Keysight U1115A Bluetooth Remote Logging Display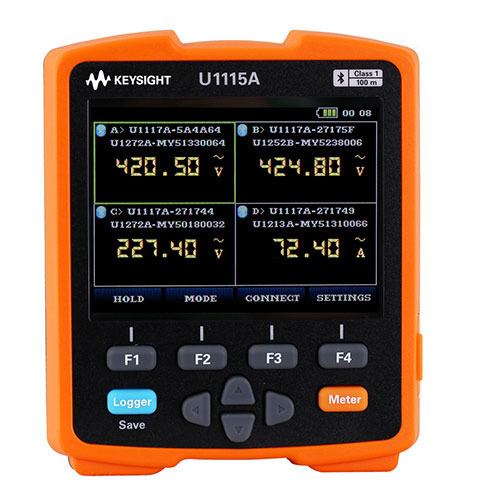 Brand:

Keysight

Condition:

New
Displays measurements such as voltage, current and more wirelessly
Extended measurement distance of up to 100 meters
Compatible with 20 models of Keysight Handheld meters, including ALL Keysight's U1200 Series handheld meters
Compatible with Keysight U1117A / U1177A IR-to-Bluetooth Adapter
Connect up to 4 HH meters for remote monitor and data logging
60,000 points interval logging
Download logged data to a Windows PC via Bluetooth connection
Micro USB external power port
Indoor and outdoor viewing mode
Reach More With Remote Link Solution
The remote link solution is Keysight's next-generation wireless connectivity solution. By simply attaching the U1177A or U1117A infrared-to-Bluetooth® adapter to a compatible Keysight handheld meter, engineers are able to remotely measure, view and test measurements from the new U1115A remote logging display, iOS/Android smart devices or on a Windows PC. The new U1117A also comes with an extended range of up to 100 meters (300 feet), enabling safer and more convenient testing in hazardous environments.
Compatible with MORE handhelds
The remote link is able to communicate via Bluetooth to 20 Keysight U1200 Series handheld meters, including the new U1450/U1460A series insulation resistance testers. Now you can save investment cost by using existing Keysight handheld meters that you have already owned. The wide selection of handheld meters cater to various application needs to get real-time measurements from a basic, compact and low cost handheld meters.
Support MORE display devices
The remote link solution offers versatility to work with more display devices. Now you can log and display measurement readings either on the U1115A remote logging display, via iOS and Android smart devices or on a Windows PC. With the wide supportability range, it allows you to multi-task by being able to measure various test points at the same time.
Includes: three (3) 1.5 V AA batteries, USB to micro USB cable (for external power only), soft Carrying Case, operating instruction