Keysight U1117A Infrared to Bluetooth Adapter
Keysight U1117A Infrared to Bluetooth Adapter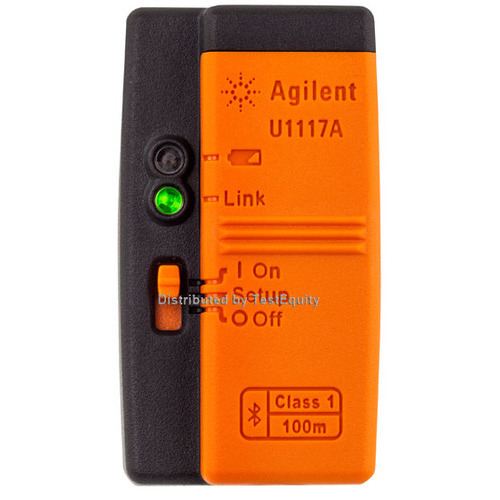 Product Features
Remote Link Solution
Keysight's next generation wireless connectivity solution lets you measure further, easier and faster. With the new U1117A IR-to-Bluetooth® adapter and U1115A remote logging display, you get instant wireless Bluetooth connection and measure safely from an extended distance.
U1117A Bluetooth adapter and U1115A remote logging display enable wireless remote measurements from up to 100 meters
Compatible with 20 models of Keysight handheld meters plus U1450A/60A series insulation resistance tester
View and display measurements on U1115A remote logging display, iOS/Android based smart devices or Windows PC
Make measurements on moving objects
Work at multiple places alone
Improve work safety with 10 times MORE distance
On-site testing in large industrial site can be challenging and hazardous when dealing with live machineries or high voltage equipment. By connecting your handheld meter to the remote link solution: U1117A IR-to-Bluetooth adapter and U1115A remote logging display, you can view and log measurements wirelessly up to 100 meters away. Get more wireless measurement distance to diagnose and evaluate live machinery from afar without having to be physically present — ensuring your safety and comfort level.
Compatible with MORE handhelds
The remote link is able to communicate via Bluetooth to 20 Keysight U1200 Series handheld meters, including the new U1450/U1460A series insulation resistance testers. Now you can save investment cost by using existing Keysight handheld meters that you have already owned. The wide selection of handheld meters cater to various application needs to get real-time measurements from a basic, compact and low cost handheld meters.
Support MORE display devices
The remote link solution offers versatility to work with more display devices. Now you can log and display measurement readings either on the U1115A remote logging display, via iOS and Android smart devices or on a Windows PC. With the wide supportability range, it allows you to multi-task by being able to measure various test points at the same time.
Includes: two (2) 1.5 V AAA batteries and operating instruction.