Keysight U1177A IR-to-Bluetooth Adapter
Keysight U1177A IR-to-Bluetooth Adapter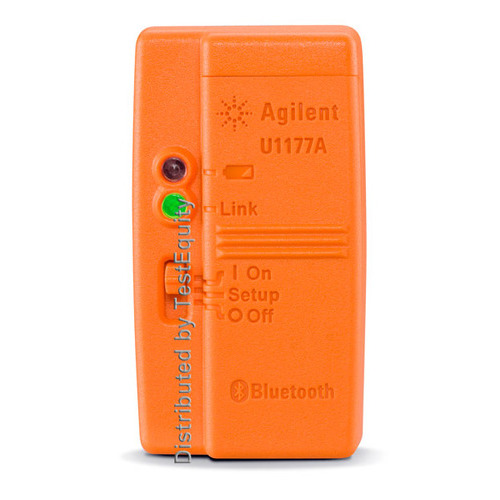 Manufacturer:

Keysight

Condition:

New

Manufacturer Part #:

U1177A

Meta Description:

Keysight U1177A Infrared (IR)-to-Bluetooth adapter offers wireless remote connectivity to Keysight handheld multimeters.

Option Parent Model:

U1231A

TestEquity Part #:

20008.1
Enables Bluetooth® connectivity between Keysight handheld digital multimeters and Android devices
Connect to any typical smartphone/tablet (Bluetooth Class 2) or Windows PC with Bluetooth Class 2 host capability
Compatible with all Keysight U1230, U1240, U1250, and U1270 series handheld digital multimeters
Perform remote measurements with as many as three Keysight handheld digital multimeters, and up to 10 meters away
Measure multiple points during troubleshooting and log all data simultaneously
Easy to install by attaching to meter's Infrared (IR) port
Diagnose and evaluate live machinery from a safe distance
Supports: U1115A Logging Display, iOS / Android smart devices, and PCs
The Keysight Wireless Remote Connectivity Solution


Keysight U1177A Infrared (IR)-to-Bluetooth® adapter offers wireless remote connectivity solution via Bluetooth® connection simply by attaching the adapter to the IR port of a Keysight handheld digital multimeter. The wireless remote connectivity is set up when a Keysight handheld digital multimeter is connected to U1177A and an Android device (tablet or smart phone) with the installed software. Every U1177A also has a unique Media Access Control (MAC) address. User can quickly and easily scan for the right U1177A using their Android device and pair up with the U1177A.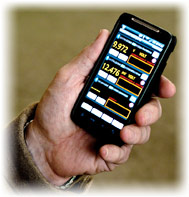 Make measurements with the Keysight Mobile Meter via an Android smart phone.
Perform up to three multimeter measurements at the same time with Keysight Mobile Meter
Keysight Mobile Meter is a free Android application software that allows an Android device to connect, control and perform up to 3 multimeter measurements. Without the need to be physically present at various points, users can now extend their reach to two or three places. This solution allows you to make measurements from a safe distance, eliminates the need to walk back-and-forth between measure target and control points, and monitors multiple measurements simultaneously. Achieve higher work productivity when you use the U1177A with your Keysight handheld digital multimeters.
The software that makes data monitoring and logging possible
The Keysight Wireless Remote Connectivity solution comes with complimentary software applications, the Mobile Basic and Mobile Logger for Android smartphones or tablets. Alternatively, data logging and monitoring activities can also be performed with Keysight GUI data logger software via Bluetooth connection.
Note: The U1179A IR bracket (Included with U1240 Series HHDMM) is required for U1240 series handheld digital multimeters to connect with U1177A IR-to-Bluetooth adapter.
U1177A includes: two 1.5 V AAA batteries, and operating instructions.