Keysight U1273AX Digital Multimeter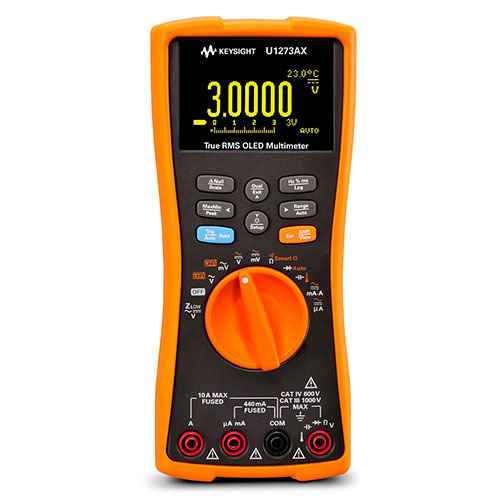 Brand:

Keysight

Condition:

New

Display Digits:

30,000 Count

True RMS:

Yes
Get razor sharp readings on OLED display (160° wide viewing angle, 2000:1 high contrast ratio)
Operable in extreme temperatures down to -40°C
30,000 Count resolution, DC accuracy 0.05% + 2 counts
Intelligent features to improve productivity and safety (LPF, ZLOW, Smart Ω)
True RMS AC+DC Measurement
J & K-Type temperature measurements
Internal logging memory: 10,000 Points
Easy connectivity to PC with optional IR-to-USB cable
Non-slip ergonomic shape fits your hand
Both visual and audible continuity indication in noisy environments
Easy access to fuse for simplified maintenance
Large rotary switch and buttons that are easy to operate
Dust and water resistant casing (IP 54 compliant)
High-altitude (3,000 meters) certified
Three-year warranty
Improve productivity with intelligent features
Shaped to fit, tailored to perform, built to last
The U1273AX OLED handheld digital multimeter, the latest addition to U1270 Series, is capable of operating in winter weather down to -40°C temperature. Even in frigid conditions, the U1273AX enables you to achieve immediate and accurate results without the need to warm up in advance.
Designed with OLED display, you can experience crystal-clear measurement readings with its outstanding 2000:1 contrast ratio. The display also allows wider viewing angles up to 160 degrees ensuring you get the right readings at the first glance even in poorly lit environments.
The U1270A Series is shaped perfectly to fit in your hand, with or without gloves on. Its nonslip ergonomic shape enables you to carry your DMM and perform measurements on the go easily. Additionally, the controls are easy to operate due to the large knob and buttons. Designed for maximum efficiency and productivity, these DMMs offer convenient functions such as ZLOW to eliminate stray voltages, Smart Ω to minimize false readings due to leakage current and Qik-V to determine existence of AC and/or DC voltages.
Includes: Standard test leads, test probes with 4-mm tips, K-type thermocouple and adapter, 4x AAA lithium batteries, Certificate of Calibration, Test Report, Quick Start Guide