Keysight U1452AT Telecommunications Insulation Resistance Tester
Keysight U1452AT Telecommunications Insulation Resistance Tester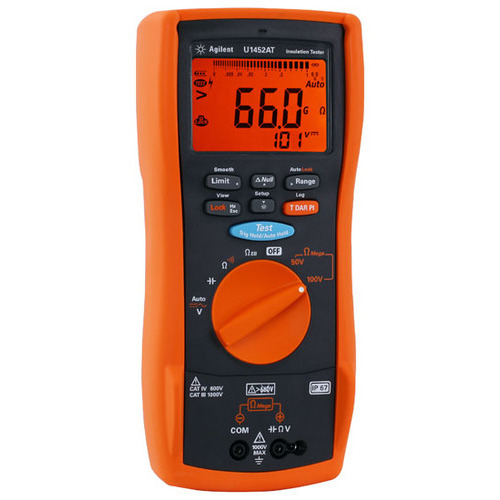 Condition:

New

Manufacturer:

Keysight
Insulation testing up to 1000 V and 260 GΩ
PI/DAR/Timed function
4.5 digit full-featured DMM with OLED display (up to 60,000 counts)
Remote testing and report generation capability
USB and Bluetooth connectivity (USB cable, Bluetooth adapter and software included)
Adjustable test output voltage from 10 V to 1.1 kV (U1453A, U1461A)
10ft drop-proof, IP67 (dust and water proof), to -40°C operating temp.
CAT IV 600V and CAT III 1000V safety rating
Designed to IEC61010, IEC61557, IEEE43-2000
Three-year warranty
Test more applications, perform various types of measurements and generate reports — All with a single tool.
Accomplish more in a day's work with the Keysight U1450A/U1460A series 1 kV insulation resistance testers. They have five test voltages (50 V, 100 V, 250 V, 500 V, 1000 V) with output voltage accuracy ranging from 3% to 20%. You can add Bluetooth connectivity to these handhelds and perform tests remotely using a Windows PC or iOS/Android smart devices. Plus, you can easily generate reports with the included software. Built to handle the tough conditions, all models are certified to IP 67, making them water proof, dust proof and drop-proof up to 10 feet (3-meters). For applications that require unique test voltages, the U1453A and U1461A have adjustable test voltage ranges from 10 V to 1.1 kV, with 1 V step increments. Additionally, the U1461A is a two-in-one insulation tester with a 4.5 digit full-featured digital multimeter.
Keysight U1450A/U1460A Series


Click meter for larger image
Product
Specifications
U1451A
U1452A
U1452AT
U1453A
U1461A
Display type
LCD
LCD
LCD
OLED
OLED
Insulation test voltage range
250/500/1000 V
50/100/250/
500/1000 V
50/100 V
50/100/250/
500/1000 V
50/100/250/
500/1000 V
Insulation resistance range
66 GΩ
260 GΩ
66 GΩ
260 GΩ
260 GΩ
Earth bond resistance measurement
0.01 Ω to 60 KΩ
Adjustable insulation test voltages
–
–
–
10 V to 1.1 kV
10 V to 1.1 kV
DMM display resolution (counts)
6,600
6,600
6,600
66,000 - 6,600
66,000 - 6,600
AC specification
Sine Wave Calibrated
Sine Wave Calibrated
Sine Wave Calibrated
TRMS
TRMS
Please refer to Data Sheet for complete specifications.
All models include test lead set, alligator clips, and IR-to-USB cable. U1452A, U1453A, U1461A also include remote switch probe, and U1117A Bluetooth adapter. The U1461A also includes thermocoupler adapter (J/K Type), bead (J-Type, K-Type).