Keysight U2049XA/100/U2032A/U2034A LAN Peak and Average Power Sensor
Keysight U2049XA/100/U2032A/U2034A LAN Peak and Average Power Sensor
23117.2
MFG #: U2049XA/100/U2032A/U2034A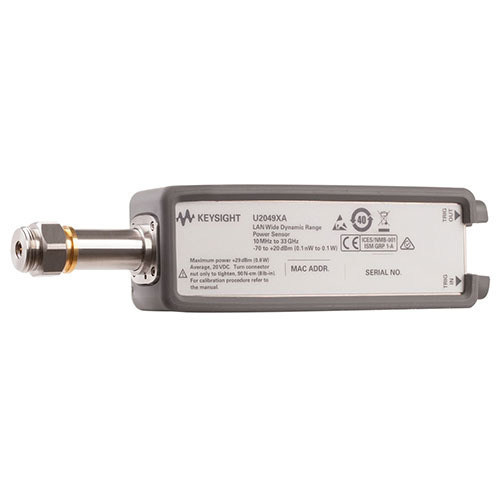 Manufacturer:

Keysight

Condition:

New
Frequency range of 10 MHz to 33 GHz
Wide dynamic range (-70 to +20 dBm) for small signal measurements
5 MHz video bandwidth
LAN/ Power-Over-Ethernet (PoE) connectivity for long distance remote monitoring (up to 100 meter)
Internal zero and automatic calibration saves time and reduces measurement uncertainty
A BenchVue software license (BV0007B) is now included with your instrument. BenchVue makes it simple to connect, control instruments, and automate test sequences
The product on this page includes Option 100 (without TVAC compliance), U2032A (Trigger cable BNC male to SMB female 50ohm, 1.5meter length), and U2034A (LAN cable, 5ft).
The U209XA LAN power sensor, 10 MHz to 33 GHz, comes with a dynamic range spanning 90 dB, is an ideal power measurement solution for fault detection and monitoring of satellite systems. Together with internal zero and calibration and best-in-class long term drift performance, the U2049XA enables automated performance monitoring without needing human intervention.
The U2049XA power sensor offers thermal vacuum compliant option (Option-TVA) for use within a thermal vacuum chamber.
The U2049XA is supported by the Keysight BenchVue software. BenchVue makes it easy to control your power meter to log data and visualize measurements in a wide array of display options without any programming. Simply connect the sensor to your PC installed BenchVue BV0007B Power Meter/Sensor Control and Analysis app to perform complex pulse analysis and standard average power measurement.
Includes:
LAN cable 5 ft (1.5 m), default cable length (U2034A)
Standard LAN cable
BNC male to SMB female trigger cable, 50 Ω, 1.5 m (Quantity: 2)
Certificate of calibration
Documentation CD-ROM
Keysight Instrument Control DVD

IO libraries suite
Command expert
BenchVue software platform
30-day free trial of BenchVue power meter/sensor control and analysis app