Keysight U2651A 64 Output USB Digital I/O
Keysight U2651A 64 Output USB Digital I/O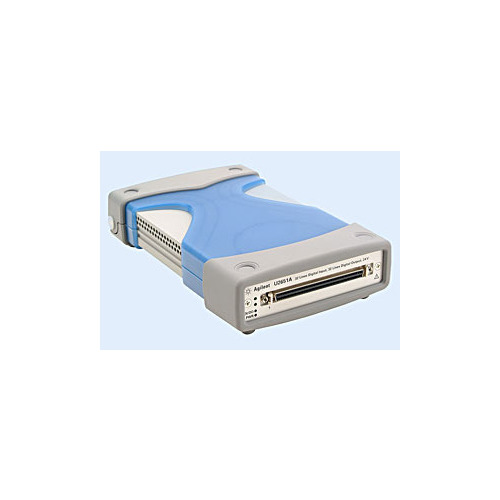 Product Features
Hi-Speed USB 2.0 (480 Mbps)
Functions as standalone or modular unit
Up to 64 opto-isolated digital I/O lines
Up to 1250 Vrms isolation protection
Supports input voltage ranging from 10 V to 24 V
External supply voltage ranging from 5 V to 35 V for external load
Compatible with a wide range of ADEs
Supports SCPI and IVI-COM
Easy-to-use bundled software
Command logger function
USBTMC 488.2 standards
Interrupt function
Virtual Port grouping function
The Keysight U2600A Series USB Isolated Digital IO devices are high performance modules that comprise of three models - U2651A isolated 32-bit DI and 32-bit DO, U2652A isolated 64-bit DI and U2653A isolated 64-bit DO. The U2600A Series provides up to eight channels with 64-bit of high density opto-isolated digital input and digital output for USB 2.0 interface-based industrial applications like driving relays, actuators, or valves. The U2600A Series targets a wide range of application both in industrial automation and education.
Includes: AC/DC power adapter, power cord, USB extension cable, L-mount kit (used with modular instrument chassis), Keysight U2600A series USB isolated, digital I/O devices quick start guide, Keysight measurement manager for U2600A series quick start guide, Keysight USB modular products reference CD, Keysight automation-ready CD, (contains the Keysight IO libraries suite), and certificate of calibration.
A BenchVue software license (BV0025B) is now included with your instrument. BenchVue makes it simple to connect, control instruments, and automate test sequences.