Keysight U2741A USB Modular Digital Multimeter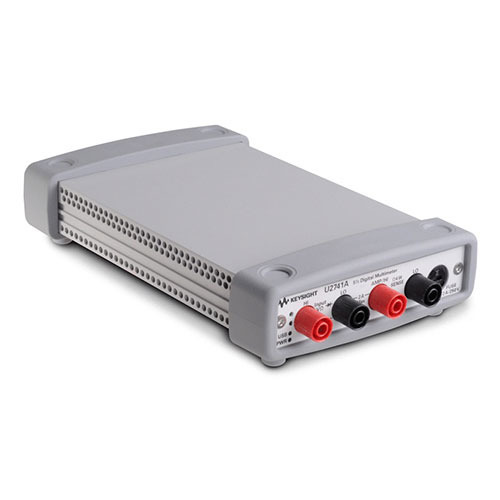 Brand:

Keysight

Condition:

New

Display Digits:

5.5

True RMS:

Yes
Waste no time with fast measurements up to 100 readings/s and Hi-Speed USB 2.0 plug-and-play simplicity (USBTMC-USB488 standard)
Flexibly operate the DMM – standalone or modular (with the U2781A chassis)
Wide voltage measurement range, up to 300 VDC with 5.5-digit resolution
Compact form means you can easily carry this powerful test gear in your bag along with your laptop PC – no need for bulky transit case
10 different measurements including frequency and temperature
Wide voltage measurement range (DC from 1 ?VDC to 300 VDC, AC from 1 ?Vrms to 250 Vrms)
Wide current measurement range (DC from 1 ?ADC to 2 ADC, AC from 1 ?Arms to 2 Arms)
Control, automate and simplify with Keysight BenchVue software. Now included.
Compatible with a wide range of Keysight Development Environments (KDEs)
Keysight U2741A USB Modular Digital Multimeter is a small form factor multimeter with huge capabilities. It provides a broad range of measurement functions, including temperature and frequency. The U2741A is a 5.5 digit resolution digital multimeter that is able to capture up to 100 readings/sec. It uses the common non-proprietary standard high-speed USB 2.0 interface that provides ease of connectivity - allowing users to set up and configure their tests swiftly with its plug and play feature.
The U2741A can function as a "standalone or modular device", allowing expansion and compact solution when used with the other U2700A USB Modular Instruments family. Giving users more flexibility, the U2741A is compatible with a wide range of application development environments such as Keysight VEE, NI Labview, and Microsoft® Visual Studio®.
A BenchVue software license (BV0021B) is now included with your instrument. BenchVue makes it simple to connect, control instruments, and automate test sequences. Keysight BenchVue software for the PC eliminates many of the issues around bench testing. By making it simple to connect, control instruments, and automate test sequences, you can quickly move past the test development phase and access results faster than ever before with just a few clicks. Dedicated instrument apps allow you to quickly configure the most commonly used measurements and setups for each instrument family. Rapidly build custom test sequences with the integrated Test Flow app to automate and visualize test results without the need for instrument programming. BenchVue supports hundreds of Keysight instrument types and models all from one easy to use application. Control, Automate, Simplify with BenchVue.