Keysight U2751A USB Modular Switch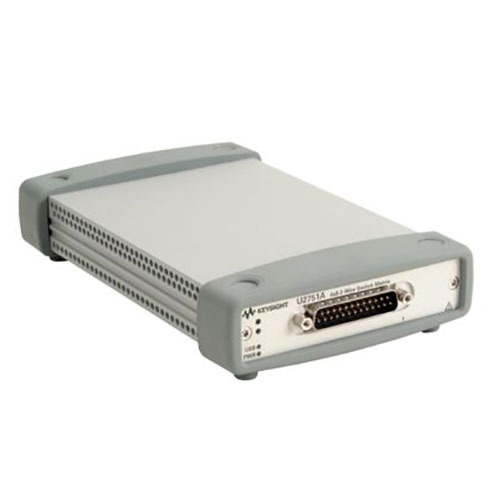 Brand:

Keysight

Condition:

New
32 Two-wire cross points in 4x8 configuration
Minimal loss of 4.5 dB for bandwidth up to 45 MHz
Minimal cross talk below -30dB @ 45 MHz
Relay cycle counter on board
Capability to test up to four DUTs
DB25 connector
High-speed USB 2.0 (480MBits/s) TMC488.2 compatible
Standalone and Modular capabilities
The U2751A USB Modular Switch offers a flexible connection path between the device under test and test equipment, thus allowing different instruments to be connected to multiple points on the device under test at the same time. This instrument offers measurement at a higher bandwidth up to 45MHz. It uses the common non-proprietary standard high-speed USB 2.0 interface that provides ease of connectivity - allowing users to set up and configure their tests swiftly with the plug and play feature. In addition to this, it comes bundled with the Keysight Modular Instruments Measurement Manager software for quick setup.
The U2751A can function as a standalone of modular devices, allowing expansion and compact solution when used with the other U2700A USB Modular Instruments family. Giving users more flexibility, the U2751A is compatible with a wide range of application development environments such as Keysight VEE, NI Labview and Microsoft® Visual Studio®.
Keysight U2922A 32-Channel Terminal Block
The U2922A terminal block is an optional accessory to be used with the U2751A. The U2922A offers you a convenient and simple way of making connection to the switch matrix for prototyping applications or an actual system deployment. It allows the user to configure a wide variety of routing options and matrix topologies.
Includes:
- 12 V, 2 A AC/DC adapter and power cord
- USB Standard-A to Mini-B interface cable
- L-Mount kit (used with the modular instrument chassis)
- Keysight Automation-Ready CD (contains the Keysight IO Libraries Suite)
- Keysight USB Modular Products Quick Start Guide
- Keysight USB Modular Products Reference CD-ROM
- Keysight Measurement Manager Quick Reference Card
- Certificate of Calibration