Preen AFV-33080 Programmable AC Power Source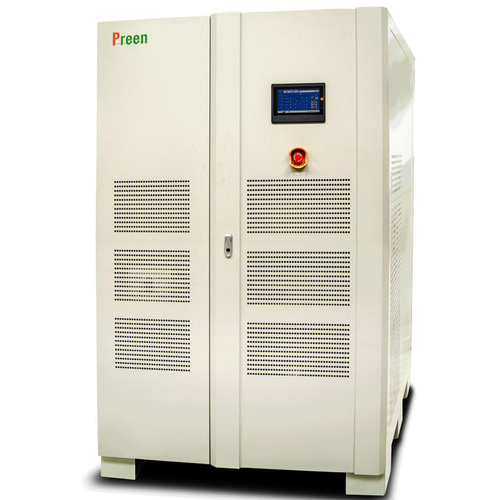 Brand:

Preen

Condition:

New
High power density: 80 kVA, 3-Phase; 0 to 300 Vrms, 45 to 500 Hz Output
Multiple Programmable Features
Programming Sequence Function: STEP and GRADUAL modes
Fast Response Time
7" Tough Screen
Three Phase Independent Control (opt.)
Soft Start Feature
Comprehensive protection includes over voltage, over current, over load, input under voltage and over temperature
>85%–90% efficiency
Standard RS232 and RS485 interfaces and optional GPIB interface available
Case: 1050 x 970 x 1800 mm
Two-year warranty
Programmable AC Power Source
The Preen AFV is a series of programmable AC power sources that can be remote controlled and integrated with other systems for easier operation. Applications include home appliance, electronic, medical equipment, lighting, and etc. With better accuracy and faster response time, the AFV series offers greater advantage for R&D and compliance tests.
Utilized PWM switching technology
The AFV-33080 provides high quality pure sine waveform with an output level of 80 kVA. The AFV-33080 is coupled with output voltage range of 0 to 300 V and output frequency of standard 45�65Hz or optional 45�500Hz. You can select communication interfaces of RS-485, RS-232, and optional GPIB. As with all models in the AFV series, the AFV-33080 also has programming sequence functions of STEP and GRADUAL modes, three-phase independent control, and soft start for optional choices.
The AFV-33080 features a 7" touch screen. Additionally, it provides complete product protection, such as OVP, UVP, OCP, OPP, OTP and short circuit protection, causing the AFV-33080 to immediately sound an alarm and cease power output.
AFV Series Models
INPUT
AFV-33010
AFV-33015
AFV-33030
AFV-33045
AFV-33060
AFV-33080
AFV-33100
AFV-33120
Power (kVA)
10
15
30
45
60
80
100
120
Voltage
115V/200V, 120V/208V, 230V/400V, 240V/415V, or 277V/480V
Frequency Range
47 � 63 Hz
Power Factor
0.9
0.85
Maximum Current
18.7
28.1
56.1
84.2
112.2
167.8
198.1
OUTPUT
Voltage
Low (V)
0V � 150.0V (L-N)
High (V)
0V � 300.0V (L-N)
Frequency Range
47 � 63 Hz (opt. 45 � 500 Hz)
Maximum
Current
High (A)
13.9
20.8
41.7
62.5
83.3
111.1
138.9
Low (A)
27.8
41.7
83.3
125.0
166.7
222.2
277.8
Please refer to Data Sheet for complete specifications.