Preen AFV-P-1250B Programmable AC Power Source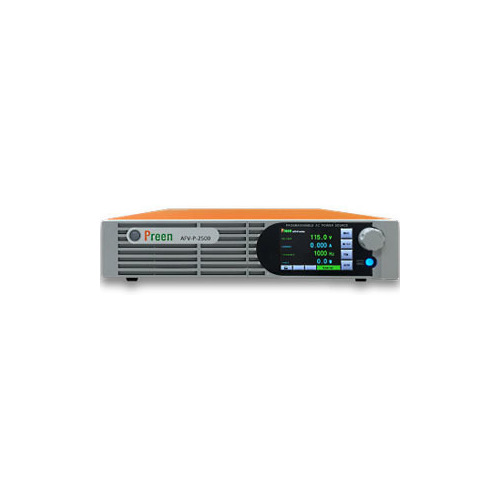 Brand:

Preen

Condition:

New
AFV-P-1250A: 15-1000 Hz — AFV-P-1250B: 40-500Hz
Compact and high power density: 1,250 VA, 2U
AC source with DC output: extend the applications to DC testing
Wide output voltage of 0–310V
THD is only under 0.3% when output power is under 100 Hz
Ideal for inrush current: capable to deliver up to 4.5 times of peak current
Start/End phase angle: users can define the start and end phase angle from 0° to 360°
Current foldback feature: consistent output current maintained
STEP and RAMP function: ideal for voltage and frequency variation tests and effectively reduces the inrush current during motor startup
TRANSIENT generation provides users an easy setup for power line disturbance (PLD) simulation
Quickly set and view the parameters via 5" touch panel or with rotary knob
Free control software and LabVIEW driver: allowing easy programming and remote control
High slew rate: less than 300 µs from 0 to 90% output voltage
Interfaces: USB, RS232, RS485, Ethernet; Optional: GPIB, Analog control
Two-year warranty
High Performance Programmable AC Power Source
Preen's AFV-P Series is a programmable AC power source with DC output and precision measurement. This compact power source provides clean power with THD less than 0.3% at 50/60 Hz and it delivers output voltage of 0�310 V and frequency of 40�500 Hz (opt. 15�1000 Hz). It is ideal for commercial, defense and aerospace test applications from design verification, quality assurance, ATE to mass production.
Comprehensive programmable features
The AFV-P series includes measurement capability of rms voltage, rms current, true power, apparent power, power factor, crest factor and reactive power. Its 5" touch screen with rotary knob allows quick adjustments and configurations of voltage, current and frequency. Total 1200 test steps in 50 built-in memories and transient generation functions allow simulations of voltage variations, surges, drops and frequency disturbances. You can set up starting and ending phase angle from 0�360 degrees and can also remotely control AFV-P via standard interfaces. Free control software and LabVIEW driver are available for easy programming and remote control.
AFV-P Series Model
AFV-P-600
AFV-P-1250
AFV-P-2500
AFV-P-5000
AC INPUT
Phase
Single
Voltage
98-132VAC / 196-264VAC
196-264VAC or 175-235VAC
Max. Current
10 A
20 A
20 A
40 A
AC OUTPUT
Power
VA:
600 VA
1250 VA
2500 VA
5000 VA
W:
500 W
1000 W
2000 W
4000 W
Phase
1� / 2 Wire + G
Voltage Ranges
0 - 155 Vrms / 0 - 310 Vrms, user-selectable
Voltage Resolution
0.1 Vrms
DC OUTPUT
Power
300 W
600 W
1250 W
2500 W
Voltage Range
0 - 210?/?0-420 V
Max. Current
2.5 A?/?1.25 A
5 A?/?2.5 A
10 A?/?5 A
20 A?/?10 A
Please refer to Data Sheet for complete specifications.
The Preen AFV-P Series is equipped with standard interfaces of USB, RS232, RS485 and Ethernet. Optional interfaces include GPIB and Analog Control. AFV-P Series also provides specialized control software with complete programming features and LabView driver, which allows easy control without further programming. Also available as optional accessories are Analog Interface Board, RS232 Cable, Input Power Cord, High Voltage Module and 150% Overload Capability.