Rohde & Schwarz FPH Spectrum Rider Spectrum Rider Handheld Spectrum Analyzer
Rohde & Schwarz FPH Spectrum Rider Spectrum Rider Handheld Spectrum Analyzer
24569.1
MFG #: FPH Spectrum Rider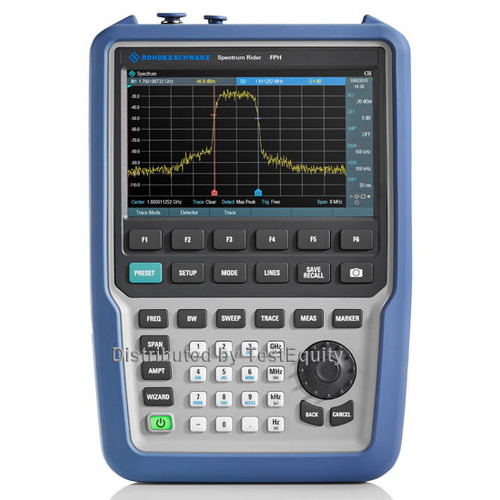 Manufacturer:

Rohde & Schwarz

Condition:

New

Family Models:

FPH.02
The perfect multipurpose tool for lab and field measurements
Frequency ranges: 5 kHz to 2 GHz, 3 GHz, or 4 GHz; upgrades via keycode
Solid RF performance
Wide range of accessories
Ideal for field use: 8 hour battery life, 2.5 kg (5.5 lb) weight, backlit keypad, fast boot time, non-glare display, small footprint, rugged housing
EMI debugging with optional near-field probes
Large color display with touch and smartphone-like gesture operation
Measurement wizard that supports measurement campaigns, speeds up measurements and avoids errors
Features and options for various industries such as aerospace and defense, wireless communications, broadcasting, spectrum regulators and education
Easy and cost-efficient upgrades of all options via software keycode
Frequency upgrades to 4 GHz available as options
Three-year warranty (battery one year)
The R&S®Spectrum Rider is a versatile, user-friendly instrument in a rugged and appealing design. The frequency range of the basic analyzer is 5 kHz to 2 GHz. The upper frequency limit can easily be extended to 3 GHz or 4 GHz via keycode.
The Spectrum Rider is designed to suit both field and lab applications in indoor as well as outdoor environment. Large buttons and a multifunction rotary control allow operation even with gloves. Its backlit keypad makes the analyzer also usable in the dark, and the bright non-glare display makes it readable in the sunshine. The battery lasts an entire working day. The light weight, its small form factor and its ruggedness make the analyzer easy to carry. The FPH Spectrum Rider is a reliable companion even in harsh and difficult-to-reach environments.
Excellent in the field
The unique combination of low weight, small footprint, short bootime and the longest battery life on the market make the FPH Spectrum Rider ideal for work in the field, even in remote, difficult-to-reach locations. The FPH Handheld Spectrum Analyzer can operate an entire working day (more than 8 hours) without recharging or changing the battery. It weighs only 2.5 kg (5.5 lb) including battery.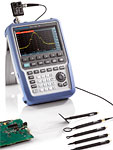 Excellent for lab diagnostics
With a phase noise of -105 dBc (1 Hz) at 100 kHz offset from the carrier, a total measurement uncertainty of 0.5 dB and its high sensitivity (displayed average noise level (DANL) of typ. < 63 dBm up to 3 GHz), the Spectrum Rider is a powerful and easy-to-use spectrum analyzer for RF diagnostics in service and development labs.
EMI debugging with optional near-field probes
The HZ-15 near-field probes are used as diagnostic tools for EMI debugging, e.g. on circuit boards, integrated circuits, cables and shielding. The HZ-15 near-field probe set is ideal for emission measurements from 30 MHz to 3 GHz. The HZ-16 preamplifier improves measurement sensitivity up to 3 GHz, with approx. 20 dB gain and a noise figure of 4.5 dB. In combination with the Spectrum Rider, the preamplifier and near-field probe set are a cost-effective means of analyzing and locating disturbance sources during development.
The FPH Spectrum Rider can easily be remotely-controlled via LAN or USB, enabling you to automate measurement scenarios. Using the Instrument View software, it is also possible to project the display on a larger screen. The Instrument View bundled software can generate a complete measurement report in a few seconds. For post-processing, the software can add markers to saved traces for a detailed analysis of the collected signals.