Rohde & Schwarz HMO1002.02 Mixed Signal Oscilloscope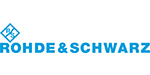 Rohde & Schwarz HMO1002.02 Mixed Signal Oscilloscope
24971.1
MFG #: HMO1002.02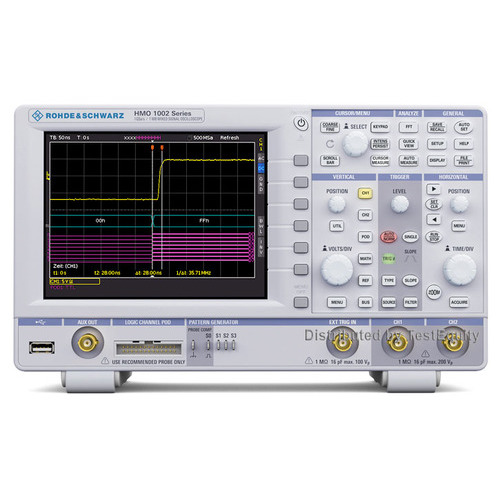 Brand:

Rohde & Schwarz

Condition:

New

Family Models:

HMO1002

Discontinued:

Yes
50 MHz, Upgradeable to 70 MHz or 100 MHz bandwidth
1 Gsample/s sampling rate, 1 Msample memory depth
Add 8 Logic channels with Opt. HO3508
High vertical sensitivity down to 1 mV/div
10.000 wfs/s acquisition rate
High acquisition rate to identify signal faults
Mixed signal function as standard
Serial bus analysis: hardware-based triggering and decoding
Pattern generator up to 50 Mbit/s and function generator up to 50 kHz
Voltmeter measurements
Wide selection of automatic measurement functions
QuickView: key results at the push of a button
6.5" VGA FFT
Ethernet / USB
The HMO1002 mixed signal oscilloscope is available with bandwidths of 50 MHz, 70 MHz and 100 MHz; and includes a high waveform update rate and vertical sensitivity. At a memory depth of 1 MPts, it operates without a fan with a sampling rate of 1 GSa/s. A pattern generator provides useful support to embedded developers. For this purpose, a number of smart features have been integrated for the education sector as well as a few convenience tools for the maintenance and service sector.
The HMO1002 is equipped with a mixed signal function — no software option necessary to unlock it. Analog and digital signals can be measured and analyzed simultaneously. A real life example is the integration of ADCs (analog digital converter) or DACs (digital analog converter). In this case, the mixed signal technology allows you to determine latency periods by means of a simple cursor measurement. The logic probe HO3508 is available separately and can be used by all HMO series oscilloscopes.
To enable communication between embedded systems and the outside world, optional hardware-accelerated signal triggering and decoding of the most common protocols I2C, SPI, UART, CAN or LIN is integrated into the HMO1002.
The integrated, three-digit digital voltmeter makes the work of service technicians easier because it is possible to simultaneously perform voltage measurements with the HMO1002 on both analog channels with two measuring values each. In addition to the voltmeter, the digital component tester is also tailored to the service tech's needs as it can quickly and easily inspect the proper function of capacitators, coils and semiconductor components.
Included with oscilloscope: power cord, printed operating manual, 2 HZ154 probes (100MHz, 10:1/1:1 switchable), HZ20 adapter BNC plug /4 mm banana socket and software CD.