Rohde & Schwarz HMP2030 (3629.6718.03) DC Power Supply
Rohde & Schwarz HMP2030 (3629.6718.03) DC Power Supply
26902.1
MFG #: HMP2030 (3629.6718.03)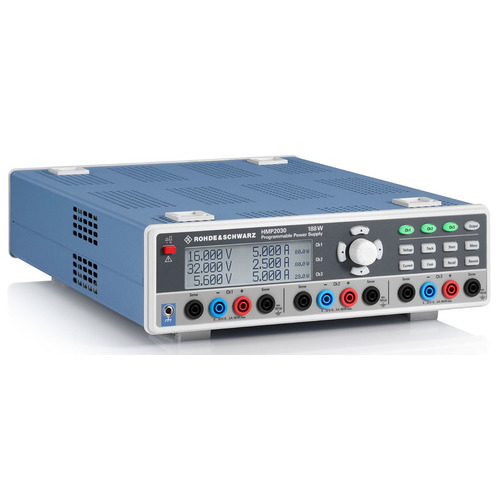 Manufacturer:

Rohde & Schwarz

Condition:

New

Family Models:

HMP2030.03
3 each 0 to 32 V, 0 to 5 A (not to exceed 80 W per output or 188 W total)
Low residual ripple due to linear post-regulators
Real-time voltage, current and watt values
High setting and read-back resolution
FuseLink (electronic fuse) freely combinable for all channels
FuseDelay tunable up to 250 ms
EasyArb function directly programmable at the device
Free PC software to easily generate user-defined waveforms
Independently adjustable over-voltage protection (OVP) for each channel
Advanced parallel- and serial operation through V/I tracking
Front connectors: 4 mm safety sockets
Rear connectors for all channels including SENSE
USB/LAN Interface is included (HO732), optional RS-232/USB (HO720) or GPIB (HO740)
CSA Safety Certified for USA (UL) and Canada (CSA)
Three-year warranty
3 each 0 to 32 V, 0 to 5 A (not to exceed 80 W per output or 188 W total).
NOTE: YOU CANNOT ACHIEVE 32 V AND 5 A SIMULTANEOUSLY SINCE THE MAXIMUM RATING PER OUTPUT IS 80 WATTS!
Parallel Operation Mode
In the parallel operation mode you can bundle the channels to achieve higher currents. The integrated power management function also ensures an intelligent power distribution over each channel in this operation mode.
Serial Operation Mode
In the serial operation mode you can combine the channels for a maximum of up to 120 volt. The V/I tracking function of the instrument is also available in this operation mode.
Industrial Production Environment
Power supply units in industrial production environment are often found in 19" racks. The HMP2030 utilizes a 19" rack with the HZ42 rack mounting kit. Additionally, all front panel connectors, including SENSE lines, are also located at the back panel of the instrument.
Remote Control Interface
USB/LAN interface (HO732) is included. RS-232/USB (HO720) and GPIB (HO740) are available as options to replace the built-in standard interface. All interfaces can be installed by the user without opening the instrument.
Included: power cord, operating manual, and software CD.
HMP2030 (3629.6718.03)