Rohde & Schwarz NGE103 Three-Channel Power Supply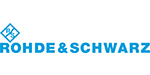 Rohde & Schwarz NGE103 Three-Channel Power Supply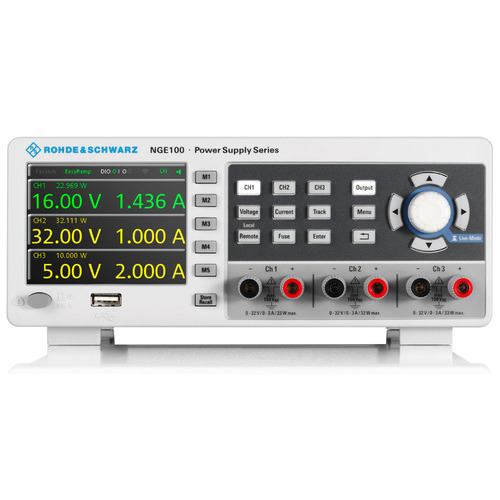 Brand:

Rohde & Schwarz

Condition:

New

Family Models:

NGE103.03
Three output channels: 0 to 32 V, 0 to 3 A; 33.6 W (100 W Total)
Maximum voltage/Amperage tripled in parallel
Parallel and series operation through V/I tracking
All channels are electrically equivalent, and galvanically separated and ground-free
Resolution: 10 mV / 1 mA
Electronic fuse (OCP), overvoltage, overpower and overtemperature protections
USB interface (VCP/TMC), optional LAN (LXI), optional wireless LAN
Optional digital I/O (4 bit)
Short-circuit-proof outputs
Protection functions to safeguard instrument and DUT
Three-year warranty

Parallel and Series Operation Through V/I Ttracking
The three-channel Rohde & Schwarz NGE103 power supply features 100% electrically equivalent output channels. All outputs are ground-free and short-circuit-proof. The three output channels can be combined in series or in parallel to achieve higher voltages or higher currents: up to 96 V/9 A using all channels.

High Efficiency Combined with Low Ripple
The NGE103 employs secondary switching regulator making smaller and lighter, thus requiring a lower fan speed — which results in low noise. And its linear control circuitry helps the NGE103 deliver low ripple and stable output voltages.

Straightforward Operation
All basic functions of the NGE103 power supplies can be operated via direct keys on the front panel. The rotary knob or the arrow keys play a central role in adjusting the voltage and current and setting the limits for the multi-purpose protection functions. The operating conditions of its three channels are displayed on the screen simultaneously with their activity status indicated by the illuminated channel key.

Short-circuit-proof Outputs
To safeguard the instrument and the device under test (DUT), the NGE103 power supply provides a variety of protection functions. You can separately set the maximum current (electronic fuse, overcurrent protection, OCP), the maximum voltage (overvoltage protection, OVP) or the maximum power (overpower protection, OPP). In addition, the outputs of the NGE103 are short-circuit-proof.

Tracking and Link Functions
The separate output channels can function as individual power supplies, but demonstrate their versatility when combined. Running in parallel, higher currents can be achieved; series connected channels yield higher voltages. The tracking function allows the user to vary the voltage on all channels in parallel for very convenient operation. The link function of the electronic fuse makes the NGE103 even more versatile. All channels are switched off if one channel hits its limit. Or it can be set up to leave one channel working, for example to keep the fan powered to cool down the DUT. The status of fuses and all other protection functions is always shown on the display

USB, LAN and Wireless Interface
Via the USB interface, the instrument can be controlled from external PCs. In addition to the standard USB connector, the NGE103 offers an optional Ethernet (LXI) interface, as well as an optional wireless LAN interface that are key code-activated.

Included with NGE103: power cord and quick start guide.