Rohde & Schwarz RTE1204.84 Digital Oscilloscope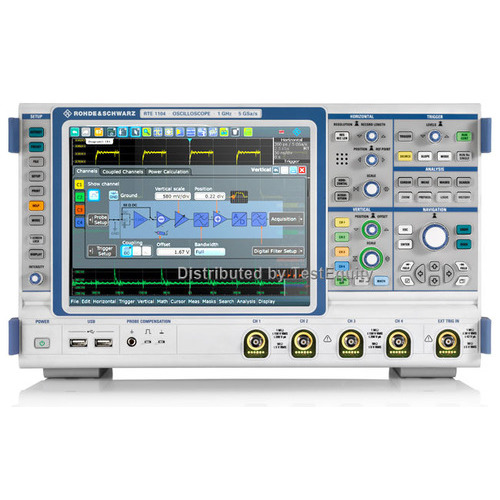 Brand:

Rohde & Schwarz

Condition:

New
2- and 4-channel models
MSO Option for 16 digital channels (upgradeable)
Bandwidth: 200, 350, 500 MHz, 1 GHz, 2 GHz (upgradeable)
Sample rate: 5 GS/s on all channels
Memory depth: to 40 MSA standard; Optional to 200 MSA
Always-on "history mode" lets you see previous triggers
Update Rate: >1,000,000 wfms/sec helps find elusive faults fast
High definition mode with up to 16-bit vertical resolution
High-resolution 10.4" TFT (XGA) touchscreen
Exclusive digital trigger system provides highly accurate triggering
Hardware-based mask testing and mask triggering
Serial protocols: Hardware-based triggering and decoding
EMI debugging with hardware accelerated spectrum analysis
High-performance probes with extensive accessories
Windows 7 OS
View video: Trigger and decode of low speed serial buses
Scope of the Art
The R&S®RTE oscilloscopes are available with two or four channels and a bandwidth of 200 MHz, 350 MHz, 500 MHz, 1 GHz, 1 GHz, or 2 GHz. With a sampling rate of 5 Gsample/s and a memory depth of 10 Msample per channel (can be optionally expanded to 50 Msample per channel), the instruments provide excellent performance parameters.
An acquisition rate of more than one million waveforms per second ensures that signal faults are found quickly. A highly accurate digital trigger system and the excellent dynamic range of the A/D converter with its more than seven effective bits provide precise results.
Besides the cursor functions and automated measurements, the R&S®RTE offers even more analysis tools that help users to complete tasks quickly. At the push of a button, for example, the QuickMeas function simultaneously displays the results of multiple measurement functions for the signal that is currently active. The FFT analysis is also unique. It gives the impression of a live spectrum on the screen and reliably detects sporadic signals.
A broad range of dedicated application solutions is also available, including trigger and decode options for serial buses such as I2C, SPI and CAN, and a power analysis option. The logic analysis capability offered by the R&S®RTE is essential for analyzing digital components of embedded designs. The R&S®RTE-B1 mixed signal option can be added to any base unit and offers 16 additional digital channels. It is possible to decode up to four parallel buses simultaneous
The wide variety of measurement and analysis functions can be easily operated via the high-resolution 10.4" XGA touchscreen. Transparent dialog boxes ensure that the measurement diagrams always maintain their original size. Signal flow diagrams in the dialog boxes simplify navigation. Signal icons with realtime preview on the edge of the screen clearly show what is currently happen.
More reliable measurements, more tools and fast results, more fun to use — that's the R&S®RTE oscilloscope. From embedded design development to power electronics analysis to general debugging, the R&S®RTE offers quick solutions for everyday T&M tasks.
R&S RTE Series Oscilloscopes
Model
Bandwidth
Ch.
Memory Depth*
Unique New Features

RTE Series w/ HZ-15 near-field probe set

R&S®RTE1204
2 GHz
4
40 Msample/Channel

FingertipZoom: Move the finger along the signal to get a quick overview of signal details
FFT based spectrum analysis: powerful & user-friendly
SaveSet tool: Fast access to instrument configurations
QuickMeas: Key results at the push of a button


R&S®RTE1154
1.5 GHz
4
40 Msample/Channel
R&S®RTE1104
1 GHz
4
40 Msample/Channel
R&S®RTE1102
1 GHz
2
20 Msample/Channel
R&S®RTE1054
500 MHz
4
40 Msample/Channel
R&S®RTE1052
500 MHz
2
20 Msample/Channel
R&S®RTE1034
350 MHz
4
40 Msample/Channel
R&S®RTE1032
350 MHz
2
20 Msample/Channel
R&S®RTE1024
200 MHz
4
40 Msample/Channel
R&S®RTE1022
200 MHz
2
20 Msample/Channel
* On 1-channel, standard. Memory Depth can be increased with B101 (x2) and B102 (x5) options.
Includes: One (1) R&S®RTE-ZP10 500 MHz passive probe per channel, accessories bag, quick start guide, CD with manual, and power cord. Please refer to Data Sheet for complete specifications.