Rohde & Schwarz RTM-COM4US Digital Oscilloscope
Rohde & Schwarz RTM-COM4US Digital Oscilloscope
28490.1
MFG #: RTM-COM4US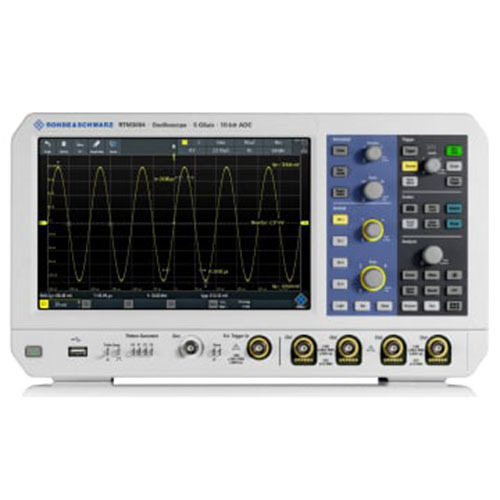 Manufacturer:

Rohde & Schwarz

Condition:

New
This Changed Everything Promo
Extended through June 30, 2020
Get all info HERE | Save up to more than $18,000!

100 MHz; upgradeable to 200, 350, 500 MHz, 1 GHz with Option
2 or 4 analog channels + 16 digital channels (with MSO option)
10-bit ADC
Max. sampling rate: 5 Gsample/s (interleaved), 2.5 Gsample/s (all channels)
Memory depth: 40 Msample, 80 Msample (interleaved), 400 Msample in history mode (with RTM-K15 option)
Display: 10.1" capacitive touch, 1280 x 800 resolution
Boot time: 10 seconds
Connectivity: LAN, USB host/device, fast display over Ethernet
Upgradable: bandwidth, protocol trigger and decode, MSO, pattern generator and arbitrary waveform generator
Three-year warranty
Invest in Rohde&Schwarz
Benefit from Rohde & Schwarz' quality and German engineering while having all the bandwidth, channels, memory, spectrum measurements and signal generation you need at your fingertips. For a limited time Rohde & Schwarz is offering a selection of entry-level instruments, fully equipped with all options at an unrivaled package price
All Upgrades Up Front
Adding keycodes or further options to your instrument can be expensive and time consuming. Your engineering requirements change so why not future-proof your investment from the start. Now you can fully load your instrument at the point of purchase.
Lower pricing
Better value and easier for you. For a limited time only you can save as much as €10.000 on these attractively priced, bundled packages. A single purchase and ultimately a lower price.